23. Advanced Style, directed by Lina Plioplyte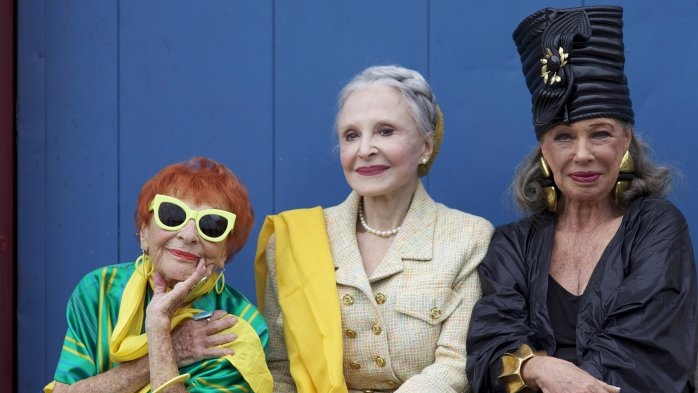 23. Advanced Style, directed by Lina Plioplyte
"Somewhere Between 50 and Death…" in Advanced Style
Look around today and you will be inundated with images of youth and beauty: the fashion industry predicates itself on it, with magazines and campaigns, runways and catalogues all devoted to a demographic of supple skin and taut bodies. Fashion and beauty products are all pushed towards these young things, subliminally told that they're in the spring of their life, able to wear anything and everything. But what about the older men and women? How can they possibly relate or aspire to look like those twenty-year old models on the front of Vogue? They don't disappear from society, and yet they are nudged out of the picture, left to feel irrelevant and undesirable. Well watch out, because Advanced Style proves that style doesn't discriminate, and that fashion is a transformative force if you let it be.
Inspired by his grandmother, and by the older influences in his life, Ari Seth Cohen began photographing stylish older ladies on the streets of New York. Generally, Cohen aimed for sixty years and beyond, and he saw such a vast range of fashionistas that he created a blog to accommodate them, entitled Advanced Style. As he says, he wanted to capture creative people living full lives, who are ageing gracefully and continuing to challenge themselves, thus proving that "you can be stylish, creative and vital at any age." And boy oh boy, doesn't he just! The women featured in the corresponding documentary are forces to be reckoned with, in the best possible way.
Drawing together a collage of fly-on-the-wall footage and fabulous interviews, we come to know seven diverse women, all as bold and courageous in their personalities as they are in with their fashion. We meet Lynn Dell Cohen, a 79 year old fashion Boutique owner, who continues to work and "dress up for the theatre of my life". Then we have Tziporah Salamon, 63, who also still works in order to come home not with money, but with "things", and Jacquie "Tajah" Murdock, an 81 year old who was one of the original dancers at the Apollo Theatre. At 67, Debra Rapoport practises yoga up to six days a week, and experiments with home-made accessories and brilliant hair colours.
Joyce Carpati, 80, once worked in the magazine industry, during a time when this was rare. She now exudes an elegance, wafting around her house with long strings of pearls and immaculately plaited silver hair. Ayn Royce Smithkin, 93, a beautifully gentle and warm artist, wears lashes cut from her own bright orange hair (head hair, thank God), that flap like colourful butterflies on her lids. Finally we have the iconic 95-year-old Zelda Kaplan, who was known as much for her late night partying as for her bold style.
New York is a character in itself, buzzing with its own energy and visual appeal. The exuberance of the city is captured, like when one of the ladies nonchalantly walks past a man training on the street with resistance bands tied around street poles. The chaotic spirit of New York echoes that of our ladies, and informs us more of their continued immersion in the world – that their lives now are as full as ever before. This point in their lives is really the time to be alive.
Advanced Style isn't about fashion as a multi-billion dollar industry, but it reflects the impact that it can have upon people's lives. Fashion, clothes and style positively affect these ladies' self-worth as a means of expressing themselves to the world, and as a by-product, compelling them to more fully engage within it. All the ladies here are fabulously stylish, but more so, their style arises from their brimming energy for life.
We see in the documentary that Ari's blog, which gains a cult-following, begins to open up new opportunities for the women. For example, Zelda and Lynn are approached to be in a TV show, Debra does a huge fashion campaign, and Lynn, Joyce and Debra are interviewed on The Ricki Lake Show. This documentary, too, did wonders for the revitalisation of their careers, with Tziporah now the ruler of an Instagram page boasting over 26 thousand followers, as well as selling fashion focused books.
Challenging the standard notions of beauty, these women are seen in their elements: their homes, the shops they frequent, their workplaces, the streets of New York. Lina Plioplyte therefore effectively captures them in their empowered states, and draws us closer to them by mixing candid snatches with comprehensive dialogue.
All of them all reveal the dichotomy between feeling young and being physically old. Life's twisted nature means that when you've reached the age of true confidence and self-empowerment, your body is incapable of making the very most of this mental fulfilment. And feeling as young as a teenager and looking and moving as a much older person is an unfair paradox of the world. Thus, these women seem to physically express their inner vitality through their clothes and the fashion choices they make. We see that real beauty, real style, comes from a fearlessness and self-assurance together with an indifference toward what other people think. As Zelda gracefully puts it: "When one becomes older one has learned to accept oneself. One is not so self-critical… This is what I am! There is nothing I can do about it!"
Even the heavier issues of death and illness are infused with a lightness, thanks mainly to the optimistic approach of his subjects. Following the death of iconic fashionista and socialite Zelda Kaplan, who suffered a heart attack while front row at Fashion Week, we're quickly lifted away from the impending pit of gloominess by Salamon, who trumpets: "What a fabulous way to die!" Smiling, she notes that Kaplan was out, being a part of life, amongst it all rather than decaying in a hospital somewhere, hooked up to machines.
Similarly, it touches on the negative side of ageing, without wallowing in its depressing nature.  Zelda in particular, talks about the limited nature of time, while commenting matter-of-factly on her aches and pains, without self-pity or indulgence. Their experiences with the creeping quality of age are all different, like being suddenly unable to move your limbs properly, or memories now slipping away and the slow deterioration of sight. But these details are always concluded with a newly gained insight, usually in the vein of appreciation of life.
I love, love, love a good doco, especially when they're inspiring. This one is not only that, but also quirky. The ladies featured are fascinating and wise, beautifully portraying all their many sides. We come to really know each woman, all generous in dishing out real pearls of wisdom that make your soul shudder and your heart melt. Advanced Style is a lesson on embracing the here and now, of living life to the full and challenging ourselves, whether this is through fashion or through another form of self-expression.