Sharknado 5 is Here,
Because Fuck Everything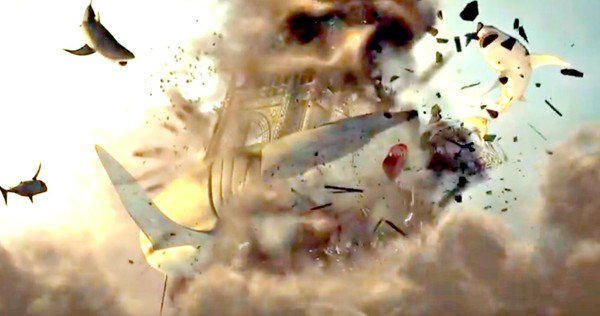 Sharknado 5 is Here,
Because Fuck Everything
The Very Fact That This Franchise Has Managed to Last So Long Says a Lot About Where We Are As a Species
I've never seen a Sharknado movie because life consists of only a finite number of hours and I would rather use them for something more productive. Sometimes I watch people fall down on YouTube and laugh; sometimes I sit on the floor, drink cheap whiskey and eat Nutella with my hands from the jar, choking back tears. Usually, I come here and act snarky. As you can tell, I've got a pretty good thing goin', so I'm not really looking to pick up whatever Sharknado is putting down.
Some unknowable people out there must be keen on it, though, because here comes Sharknado 5: Global Swarming. Perhaps the funniest and most worthwhile thing about this mercifully short teaser is that – as you can see above in the title of the video – whoever uploaded it to YouTube genuinely thought it was subtitled "Global Warming".
Which is fantastic for two reasons: one, it allows me to believe that there's someone out there who thought this was a documentary about climate change, with the ultimate consequence being a sharknado, and two, it made me realise that even if sharknados did start happening, deniers of global warming would still just blame Obama.
Admittedly, for what it's worth, the mind-engulfing stupidity of this trailer is fairly amusing, bombarding you with images of man-made icons being flattened by giant flying sharks. If you must engage with it, do so on the sworn promise that you'll count this 20-second foray into the world of sharknados as your only encounter with this series.
Please don't actually watch this movie, or go back and watch the first four in preparation in case you're worried you won't understand the plot. That's dumb, and such a waste of your limited time. Don't you know how fun mastubating is? And there's so much less shame involved than watching this shit. Trust me, I'm basically an expert.