Chance the Rapper – "#FirstWorldProblems"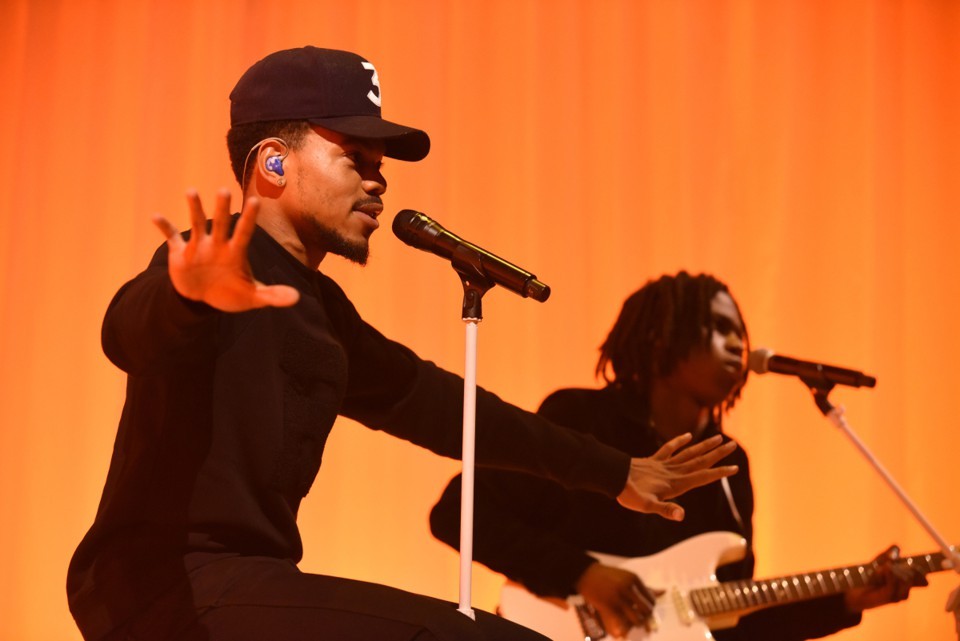 Chance the Rapper – "#FirstWorldProblems"
Chance's New Track Affirms His Status as the Sunny Voice of Our Generation
Perhaps the most consistent – and easily the most entertaining – rapper of the decade returns with his first new song since last year's Colouring Book. It's packed with everything that makes Chance who he is: wistful nostalgia, lyrical wizardry and a spine-tingling sense of joy.

Rating: 10.5/11
Anyone I spoke to (read: harassed) about my favourite music last year probably heard two things repeatedly: Chance the Rapper's verse on "Ultralight Beam" was astounding, and he would never, ever top it. Naturally, it only took the guy a year-and-a-half to prove how full of shit I am.
Chance's debut of his new song (now titled "#FirstWorldProblems") on Stephen Colbert's The Late Show last night was not only the best live TV performance of the year. It was the unveiling of what could easily be 2017's anthem. It was, in equal measure, warm, melancholy, hopeful, downcast, scattered, precise and goddamn miraculous.
Proving his worth as a man who practices inclusivity without exploitation, Chance spreads his reach far and wide. Over the soulful strumming of Daniel Caesar, delivered in his signature wide-eyed pitter-patter, he finds room to be self-aware and outwardly critical. "First world problems that niggas make up" goes the pre-chorus, where Chance both acknowledges how good he's got it while decrying the dismissive attitude of whites towards black Americans.
Elsewhere, he calls out those who would overlook their "black friends and gay cousins", picking up speed in a thrilling word jumble that climaxes in his astounding shouts on the last chorus. This is how Chance inspires people: by digging so deep past the anger and distrust to arrive at something more productive. He excavate passion from hate and makes truly soulful music.
Just as important, though, are the careful, poignant details of Chance's life that litter the song. A young, famous father to a two-year-old is a tricky position to occupy, and he allows us glimpses without oversharing, managing grace while lamenting the drawbacks. "I'm a rich excuse for a father" is a both a clever line and a sneakily sad one, especially when followed by "She turnin' 2, she don't need diapers, she just need her papa."
Regardless of whether or not it receives a studio treatment, this track will remain as inseparable from this live performance as Kendrick Lamar's "Untitled 8" on Jimmy Fallon last year. Both songs deserve a live rendering, a setting where the magic leaks out through the raw energy and potential for missteps. Even when they do occur, they can't help but add to the charm: Chance fumbling slightly at the end of the second verse and then racing to catch up, or his decision to stop censoring himself halfway through and drop expletives all over the place.
I don't wanna sound hyperbolic, but it's the sort of performance that movements are built upon. Everything we do is, in one way or another, motivated by feeling, by sensational awareness. Something engages us and we respond. Actions speak louder than words, but the words inform them. They're the sounds that tell us what we feel, and they turn within us until we know what we should do. "#FirstWorldProblems" is a blessing, an instruction and an awakening, and it's about to happen inside all of us.
Ready or not.