20 Best New Shows of 2017

20 Best New Shows of 2017
Whodunnits, Good Pals and Tough Gals
If our list of the 20 Best Returning Shows of 2017 was largely slanted towards sitcom comfort, then the new shows of the year were defined by their mysteriousness. Whether it was a superhero origin story, several clumsy small-town murders or a spontaneous collection of dicks, 2017 had its fill of unanswerable questions. Luckily, the process of backtracking, reliving and trying to untangle these puzzles was as rewarding as ever in a year filled with its own imponderables, especially when bolstered by such diversity and as many strong female leads as you could please refrain from shaking something at.
Here are 20 of the best that we saw.
20. Detroiters
Detroiters has a theme song that'll put a smile on your face and a show to keep it there. It's not uproariously funny, particularly clever or really insightful in any way; it's just a good way to spend 20 minutes at a time. Watching best friends Sam and Tim (played by real-life best friends and co-creators Sam Richardson and Tim Robinson) try their darndest to make it as successful ad men is less pathetic than it should be, because their unironic joy at being around one another is infectious. No matter how often they fail, you get the feeling they couldn't be happier.
19. My Brother, My Brother and Me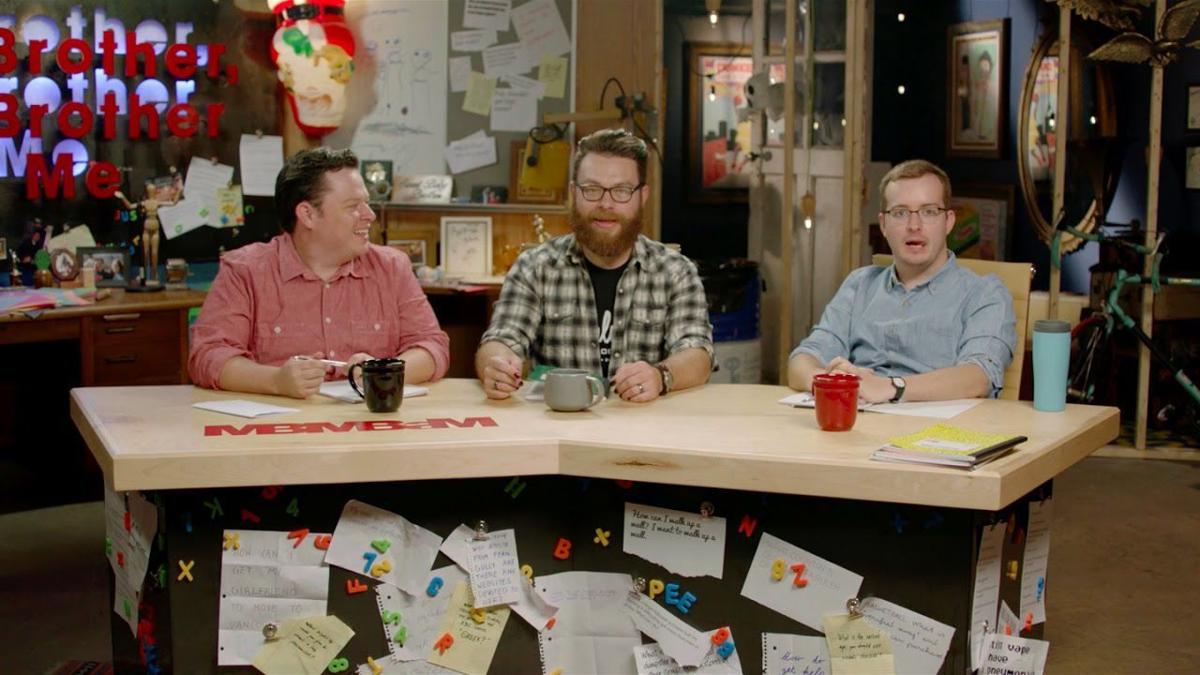 You better have a damn good reason for adapting a podcast into a TV show, which (luckily) is exactly what the McElroy brothers had. Justin, Travis and Griffin brought their freefrom advice show to television in 2017, allowing the craziest avenues of their discussions to take on a more tangible, hilarious form. Whether it's making tarantulas seem more accessible through parades or constantly intruding on the working day of an actual mayor, the McElroy's always revelled in each other's creativity and willingness to take an idea in any number of insane directions.
18. Mindhunter
I don't think there's a clumsier show on this list than Mindhunter. It was often compelling and well-crafted, but just as often it didn't really seem to know what its core themes were or who were its most interesting characters. Nevertheless, the steely, almost nauseatingly pristine camerawork of David Fincher and clinical intrigue of Joe Penhall scripts ensured that Mindhunter was always interesting, even when it was for the wrong reasons. And who could forget the fantastic cast, most especially Holt McCallany as the weary Bill Tench and Anna Torv as the withholding Wendy Carr.
17. The Rundown with Robin Thede
John Oliver's got scope, Samantha Bee's got fury and Seth Meyers has affable incredulity. What's Robin Thede got? In a word: credibility. Everyone suffers under Trump, even those who don't know it yet, but it's about time there was a black woman on TV to take issue with the countless affronts he's made to both women and black people in America. To top it off, Thede combines the simmering rage of most liberal talk show hosts with a less-cringeworthy take on today's online landscape. Memes and hip hop artists rub shoulders with political commentary, all in the hope that everyone can find a way to stay black.
16. Great News
It's unlikely that we'll ever see a true successor to 30 Rock, especially now that Tracey Wigfield – a former 30 Rock staff writer – has made Great News and it's… well, it's not 30 Rock. It's still quite funny, though it takes quite a bit of the first season to truly find its sweet spot, which is somewhere between the oddball humour that peppers Tina Fey's output and a domesticated workplace sitcom where most of the jokes are at the expense of the older folks. But, like, in a good way. Hard to sell as it may be, Great News is nothing if not consistently solid and occasionally inspired TV.
15. Santa Clarita Diet
Satire only really works if it has something worth saying beyond its need to be satirical. That's where Santa Clarita Diet's slanted sense of humour and surprising amount of gore come into it. Though it's a hoot connecting the dots as affluent mum and realtor Sheila (a stellar Drew Barrymore) becomes such a bourgeois consumerist that she literally devolves into a flesh-eating zombie, it's honestly just as fun watching the chaos of that predicament unfold. Add into the mix Sheila's frantic stoner husband Joel (Timothy Olyphant, funnier than ever) trying to keep the family together while keeping Sheila fed and the show quickly becomes a unique and wonderfully violent farce.
14. Alias Grace
Definitive answers are overrated. If TV shows like Lost, The Leftovers and Twin Peaks have taught us anything, it's that it's better to arrive at your own conclusion than to have one foisted upon you. Alias Grace understands open-ended narratives perfectly, to the degree that it crafts one, envelopes and consumes it, then forms an even loftier ambiguity from its remains. Listening and watching as Grace Marks (the spellbinding Sarah Gadon) recounts the tale of how she came to be committed to an insane asylum is both maddening and perversely thrilling. You can't trust her, but then you can't help but think of how often her trust was abused, and find yourself not sure if you truly believe her or just wish that you could.
13. Get Krack!n
In 2015, Kates McLennan and McCartney established themselves as the most engaging and refreshing Australian comedy duo in years with The Katering Show. Much as that program lampooned the faux-cheer and banality of cooking and home improvement shows, Get Krack!n takes on the inescapable blare of early morning talk shows. Think Sunrise, except it's 3am and the camera crew are interns from the local high school. Over the course of eight brutally funny episodes, the girls (sorry, grown women) rip into the tropes of celebrity guest appearances, child-rearing fads and the tendency of TV hosts to insist that you're not fucking doing enough bullshit in your life already. Rarely is incompetence and indifference portrayed with such flair, wit and vitality.
12. American Gods
What I remember most about American Gods are not any particular plot points or character moments. Indeed, what I recall overall is an impression of a holistic work of art, or an organism that only functions properly when every component of it has been properly stretched and prepared. When it was on, it was often gorgeous and confounding, while also seeming a little weightless and without centre. When it finished, I wasn't sure if it had even achieved anything at all. But all these months later, I'm convinced that American Gods was a stunning, roundly entertaining preamble. This is merely the story kicking into gear and, considering what a remarkable thing that was to witness, the proper tale itself should be quite a thing to behold.
11. Dear White People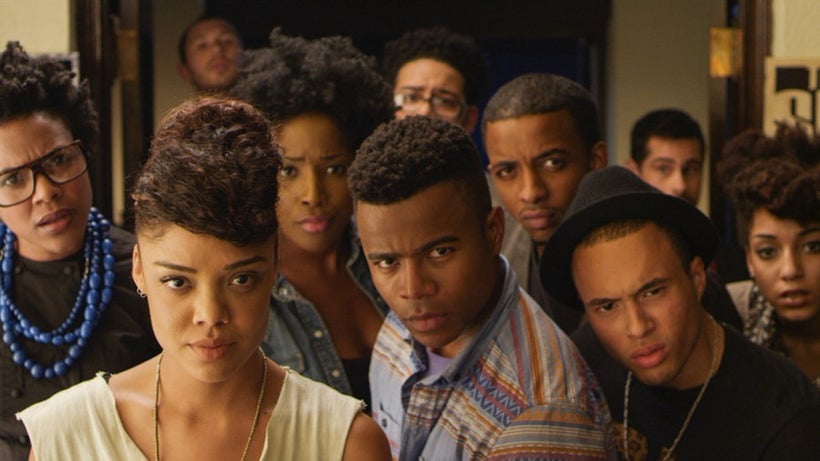 Yeah, it's that show. The show that launched tens of thousands of downvotes and got the wrong people pissed off about the very wrong thing. But never mind all that: Dear White People is not only better than all that bullshit, it's beyond all of it. Taking its title from the on-campus radio program of Samantha White (a charming, fiery Logan Browning), this show examines racial relations and resentment in America through the microcosm of an Ivy League school. And why not, when blackface is still gobsmackingly rampant and the leaders of tomorrow sure seem to want the same privilege as those of yesterday? Of course, none of this would work nearly as well as it does without the sly humour and discreet heart that fuels Dear White People's best episodes.
10. American Vandal
Premises shouldn't define a show's chances of succeeding but, even so, the odds seemed stacked against American Vandal. It's Serial meets American Pie, a mockumentary show that apes the austere true crime approach of recent years in order to unravel who spray painted a bunch of dicks onto a parking lot's worth of cars. And I've found myself in the odd predicament of trying to convince you that it's a tremendously good, endlessly clever and weirdly tender kind of show. Much like Dear White People, it examines the dynamics of the education system to offer a wider – if far more satirical – look at how certain people are perceived. It manages to make its central mystery both absurd and intriguing, its characters both juvenile and sympathetic, and its overall tone hysterically funny and unexpectedly considered.
9. The Young Pope
I wouldn't even begin to know how to describe this show, let alone how to recommend it. Created, written and directed by Paolo Sorrentino, The Young Pope exists unto itself in the manner that a lot of Italian films do: its inscrutable, tonally bipolar and full of images that thread the eye of a gorgeous nightmare. It stars Jude Law as the titular pope, one Pope Pius XIII. He's not a nice man, but he is not a simple one either. His nature avails itself of as much scorn and cruelty as it does mercy and kindness. He smokes and drinks Cherry Coke. He has a pet kangaroo. He's an orphan that carries the weight of abandonment, a homophobe who finds comfort in a gay clergyman, a secularist who sorta thinks of himself as God. In all of 2017, there was nothing on TV like it.
8. GLOW
GLOW isn't just a great show, it's a commentary on the types of entertainment and art we tend to value over others. A fictionalised version of the events surrounding the real Gorgeous Ladies of Wrestling circuit from the '80s, GLOW tackles the age old trope of watching a bunch of misfits grow together as a family with grace, wit and a superb sense of tackiness. Ruth (the always incredible Alison Brie) is a struggling actress who falls in with producer Sam (a perfectly dour Marc Maron) and his crew of wannabe lady wrestlers, all of whom have their own hangups and insecurities. Some want to be taken seriously by their families, while others are looking for their lost families, even if that means becoming a She-Wolf. Each one of them takes solace not just in the others' setbacks, but their combined efforts to lend glamour and credibility to their art.
7. Big Mouth
Family Guy has a lot to answer for but, for now at least, there's one thing I can be grateful the show gave us: writer Adam Goldberg, who's filthy sense of humor melds perfectly with Nick Kroll's knack for characters in Big Mouth. The show – which is one part teenager PSA and several more parts outrageously gross details – focuses on a group of highschoolers entering into puberty. And, though its primarily a comedy, Big Mouth has as much interest in mining humour from its character's adolescence as allowing room for their concerns to actually matter, not simply be dismissed as punchlines. It's a warm and wholly inspired perspective that can allow the show to tackle sexual peer pressure with aplomb while also finding room for a subplot about a sentient cum-pillow. Yep, try finding that sentence written about any other show this year.
6. Big Little Lies
Ok, sometimes definitive answers are great, even when they are largely besides the point. For anyone who watched the slow-burn, reverse murder mystery of Big Little Lies unfold last year, there was a savage glee in the final pieces falling into place in the last ten minutes of the show. But, strangely enough, the show succeeds on a much simpler and more resonant level than that: it simply has characters that you want to know more about. And yeah, the murder that kicks everything off is a great catalyst and framework for that exploration, but most of us were more interested in whose toes Madeline (Reese Witherspoon, flawless) would step on next. Or whether Ed (Adam Scott, scruffily lovable) would really get into a punchup with Madeline's ex. Or just what the fuck was going on with Perry and Celeste's marriage (a chilling Alexander Skarsgård and simmering Nicole Kidman). In other words, Big Little Lies became 2017's biggest, sneakiest soap opera, and was all the better for it.
5. The Handmaid's Tale
There wasn't a single other show this year that I had to brace myself before watching like I did with The Handmaid's Tale. And, true to form, I doubt there was a single episode of the show where my preparation wasn't warranted. In a world where almost the entire population has become sterile, the United States has come under theocratic rule in a realm now known as Gilead. Women with their fertility are reduced to the rank of handmaids, little more than chattel to be passed around by the higher class to aid in the production of children, a ritualisation of rape that's even more dire when you add in all the perverse biblical shit. One in particular, Offred (formerly June, played by an incomparable Elisabeth Moss), has lost her husband and daughter from the time before, but continues to fight with secret ferocity against her enslavement. Never glorifying the oppression but always exalting the oppressed, The Handmaid's Tale exists for right now as both a cautionary tale and one that I would approach with caution.
4. Feud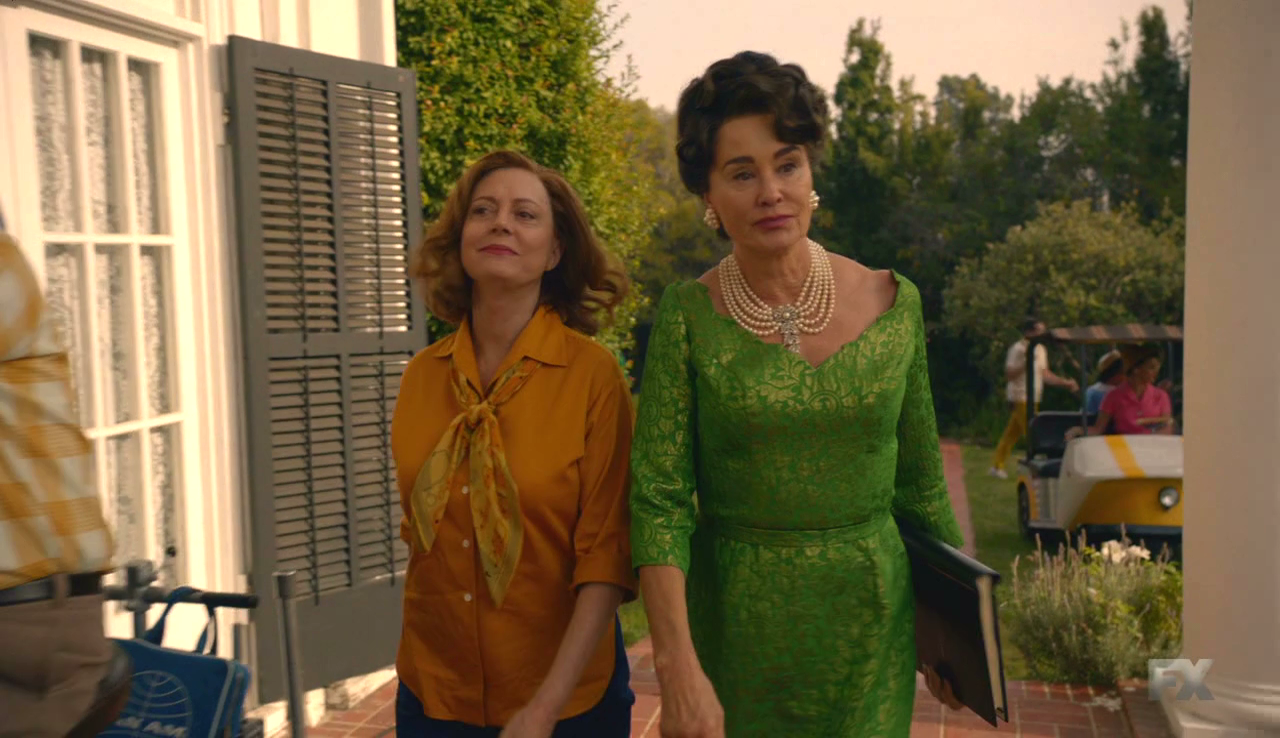 Even though it completed its run several months before Hollywood was rocked by a wave of sexual assault and harassment allegations, Feud feels like a glorious rebuke to the men that built tinseltown. The first season of this proposed anthology series – from madman/sometime-genius Ryan Murphy – casts its eyes back to the early '60s, when starlets were routinely over-sexualised, given virtually no agency of their own and had an implicit expiration date woven into their careers. My, how things have changed. The two women in focus here are Joan Crawford and Bette Davis, played by Jessica Lange and Susan Sarandon, respectively, giving resoundingly sympathetic performances. Both finding themselves on the wrong side of 50, the two rivals team up to star in What Ever Happened to Baby Jane?, during which their animosity and distaste for one another comes to the fore. Feud is equal parts camp, glitzy and melodramatically tragic in the way a show set on the tail end of the Golden Age deserves to be, while remaining yet another example in 2017 of the peerless achievements woman can make in a man's world.
3. Trial & Error
Funny's great, but setting is everything. Community knew that, which is why we always came back to that same old study room. 30 Rock knew it, which is why we almost never left the madcap world of 30 Rockefeller Plaza. And Parks and Recreation knew it, as does its spiritual successor Trial & Error, which establishes a small town in South Carolina as quaint, quirky and quick to fall in love with as Pawnee, Indiana once was. This time around, we're in East Peck, as New York lawyer Josh (a flabbergasted Nicholas D'Agosto) attempts to defend the hopelessly guilty-seeming Larry Henderson (a devilishly oblivious John Lithgow) from murder charges, after being suspected of killing his wife. Henderson and the residents of East Peck are all colourful enough, but it's their shared history – as well as that of the town they live in – that makes Trial & Error so full of surprises. A prisoner facing a death sentence, for instance, may be subjected to Death by Bear, and don't even get me started on the weird mishaps that could earn you a statue in this place. Truly, even when it's weighed by the darkest of topics, the light shines bright in Trial & Error through the fabled town of East Peck.
2. Legion
TV still hasn't really gotten a handle on how to tell superhero stories. Even good first seasons of shows like Luke Cage and Jessica Jones get bogged down by mid-season fluff and overstuffed crossovers. That's why Legion doesn't bother trying to be a superhero show. Much like Logan is a thriller that just happens to star Wolverine, Legion is a psychological horror/action show that just happens to be about David Haller. David is the son of Professor Charles Xavier, the founder of the X-Men, and so may well be one of the most powerful mutants in existence. Of course, because David doesn't know about his telekinetic abilities, he's lived his whole life as a diagnosed schizophrenic, which is a really fantastic – and rather sensitively handled – method of making us distrust him from the get-go. No matter what happens to David, there's no way for us or him to truly know it's real, and the trade-off between what he perceives, what he remembers and what he chooses to ignore allows for a groundswell of tension that builds across the entire season. All the while, Legion manages to be the most thrilling action show on TV in years, doling out proficient fight scenes and aesthetically charged sequences so often that it's almost hard to believe your eyes. Which is exactly how you should feel.
1. The Deuce
I will follow David Simon anywhere he wants to lead me. His masterpiece The Wire – which told the story of virtually every component of the Baltimore drug trade – established the former journalist as a man of considerable scope, someone who could tell big stories in the most fascinating, incremental of ways. Follow-ups Generation Kill, Treme and Show Me a Hero did the same for Iraq, New Orleans and 1980s New York, respectively, so for 2017 Simon set his eyes lower. He took the "seedy underbelly of the city" cliché and made something fresh and vital out of it. He saw sex and heard cash registers, saw pimps and thought syndicate, saw porn and divined art from it. He saw where TV was at in 2017 and made The Deuce.
Starring James Franco in a dual role – the best he's been in years – and a goddamn powerhouse of a performance from Maggie Gyllenhaal as a hooker whose heart is barely even made of tin, The Deuce tells the story of how pornography became legitimised in New York in the 1970s. Much like The Wire never missed a beat, The Deuce is clever to encompass people of all walks of life to tell its tale. The mob wants in, the cops are doing sweeps and there's a reporter sniffing around the whole thing. Elsewhere, a well-to-do college drop-out starts working at a bar near the hookers' beat and wonders why they do it, as another girl gets off the bus from the country and falls into it without even trying. If that sounds a little overwhelming, that's sorta the point. Simon makes epic, refined tapestries, woven with such detail and texture that every corner holds up to intense scrutiny. As 2018 looms, I honestly can't wait to put more of The Deuce to the test.