Sunday Shuffle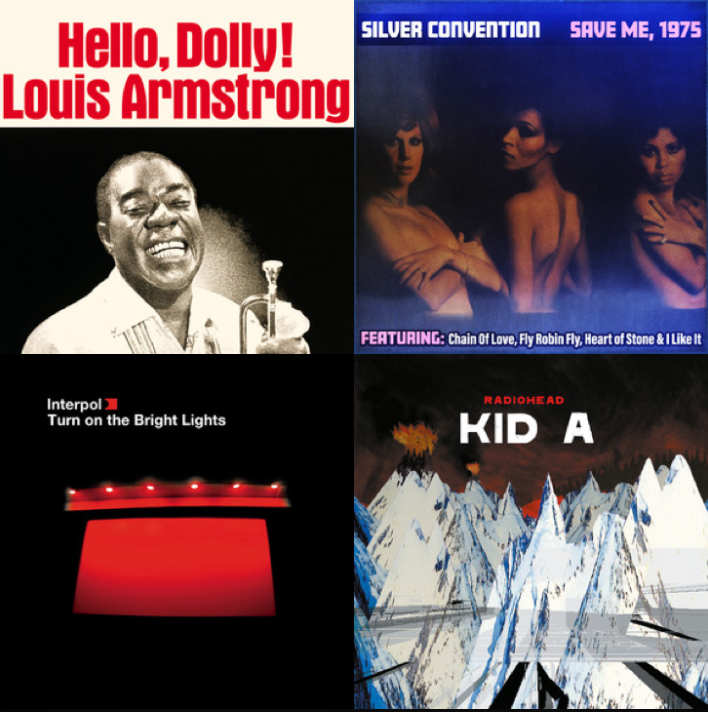 Sunday Shuffle
Disco, Idioteques and Countdowns
Introducing our first new feature for the mid-year, the Sunday Shuffle.
The Sunday Shuffle is made up of ten songs chosen randomly from a library of tens of thousands of tracks; some effort is made to ensure a decent split between new and old music, as well as to ensure a diversity of genres etc.
Check out our Spotify playlist below, or even further down you can listen to each track individually and read our short write-ups.
Happy Shufflin'
"Hello, Dolly!" – Louis Armstrong
Taken from the 1964 musical of the same name, "Hello, Dolly!" is less remembered as a broadway musical number than it is a stirring recording of a true icon. Few people in the history of recorded sound have possessed a voice as indelible and immediately recognisable as Louis Armstrong. A single syllable is enough to be utterly transported, to see things in both nostalgic black and white and vivid technicolour, to be enveloped by a perennial cheer and an insistent sense of things being supremely alright. It's the audial equivalent of an old friend calling out of the blue.
"Fly, Robin, Fly" – Silver Convention
Silver Convention only ever had a couple of hits, but they so typified the rise of Euro disco in the late 1970s that they remain a staple of the genre to this day. With a hook comprising of only six different words repeated at odd intervals throughout, "Fly, Robin, Fly" is less about vocals and human distinction than it is about the machine of disco. Most alluringly, the track serves as a cheeky glimpse at the schematics of this sound, from the strutting bassline and sunny strings to the steady amalgamation of these towering sonics into that unstoppable force: boogie.
"Obstacle 2" – Interpol
A deep cut from Interpol's stunning debut Turn On the Bright Lights, "Obstacle 2" reflects the intimate combustion of the band's music while exemplifying Paul Banks' most endearingly awkward turns as a lyricist. "I feel like love is in the kitchen with a culinary eye, I think he's making something special and I'm smart enough to try", is the sort of "The fuck did I just hear?" excerpt that needs to be quoted in full, simply to convey how totally the sharp, down-on-my-luck slant of this track completely redeems Banks' clumsiness. A dark city shimmer, if ever there was one.
"Idioteque" – Radiohead
A digital seizure wrapped in grey matter, Radiohead's "Idioteque" is probably the best distillation of the prickly, almost contrarian left-turn of the band's electronically drenched album Kid A. Built atop soaring, glitchy synths and malfunctioning spacecraft textures, this track allows Thom Yorke his full range of expression: cryptic warnings, feral cries for help and a nihilistic certainty that the internet means we're alive now… or something like that. "Mobiles chirping; take the money, run", goes the end of one verse, a jumble of impulses and snagged thoughts run together into a single, undeniable understanding: no one's getting out of this.
"He Will Break Your Heart" – Jerry Butler
When "He Will Break Your Heart" was re-recorded by Tony Orlando and Dawn in 1975 as "He Don't Love You (Like I Do)", it became a No. 1 song in the United States for three weeks. There's a communal heft and autumnal beauty to that version that certainly turns the ear, but Jerry Butler's original 1960 recording serves the song's tone much better. Cushioned by drum brush percussion and some tinny backing vocals, Butler sings in the peculiar way that many crooners of the era managed: sounding woebegotten, yet also elated, as if he wouldn't have it any other way.
https://www.youtube.com/watch?v=AjczGwA7AZ4
"Spacewoman" – The Breeders
Having finally abandoned the noxious parade float that is the Pixies in the 2010s, Kim Deal is now set to commit all of her artistic energy and wry intellect into The Breeders. Midway through their latest album, All Nerve, "Spacewoman" emerges as a koan of perspective and malaise, a shuddering plume of reverb pierced by Beal's righteous cries. American exceptionalism becomes a slideshow rorschach test ("Beachballs in the stadium", "playing baseball", "hitting home runs"), before Beal tips her hand, showing the thrill of enjoying small moments of happiness: "Hitting every green light on the long way hoooOOOME!"
"Money Don't Matter 2 Night" –
Prince and the New Power Generation
Songs like "Money Don't Matter 2 Night" are a reminder that Prince wasn't just an invigorating sex pest, a sultry master of groove and a impeccable songwriter. Beyond all that, Prince was also a man of intense outward benevolence, which sometimes led to, at best, goofy sentimentality and, at worst, literal preachiness. This song is definitely the former, a dash of velvet lounge opulence and a heaping of smoke-in-the-eyes loucheness, all twisted around Prince's plaintive melody. The words skew heavy, sometimes clunkily so ("So what if we're controllin' all the oil?"), but the track stays light on its feet.
"Countdown" – Beyoncé
"Rock Around the Clock" with Yoncé? They said it couldn't be done. Yet somehow, rather than devolving into some obnoxious gimmick, "Countdown" absorbs its titular concept, reconfigures it and proceeds to bang the fuck out. Because it's not just the hook literally counting backwards from ten, it's the entire song: a horn-propelled, kitchen-sink clatter of a beat on a quickening sequence towards something explosive, like a liftoff initiating a countdown. So "Rock Around the Clock", not so much. Plus, I don't remember Bill Haley ever telling people to "Grind up on it, girl, show him how you ride it."
"Ya Hey" – Vampire Weekend
At the end of Modern Vampires of the City, their most spiritually inquisitive album, Vampire Weekend offer up "Ya Hey", a track so exquisite and anthemic that it almost gets away with it. 'It' being the act of standing atop a burning monument to some forgotten deity, hurling a fiery chunk of faith into the cosmos and whispering quietly: "Uuum…?" No one knows, right? But the rubbery vocals, yelpy chants and still (somehow) enchantingly quaint pianos and choral crescendos make it hard to hear the uncertainty. It might sound like gibberish, but that's only because you forgot what it means.
"Les Yeux de Ma Mère [Live]" – Arno
If Tom Waits were European and born inside the throat of a phlegmatic giant, this is how his alcoholic child's music would sound in his withdrawal-induced fever dreams. Electing to turn the world's most ostensibly beautiful language into a cacophony of haunted despair, the Belgian musician Arno crawls inside his piano for comfort and cries out in muddy French for the light in his mother's eyes. There are some… awkward passages ("J'aime l'odeur au-dessous de ses bras", for the bilingual) but what's truly astounding is the sound of Arno pushing out all this pain, one gnarled syllable at a time.