Golden Globes Recap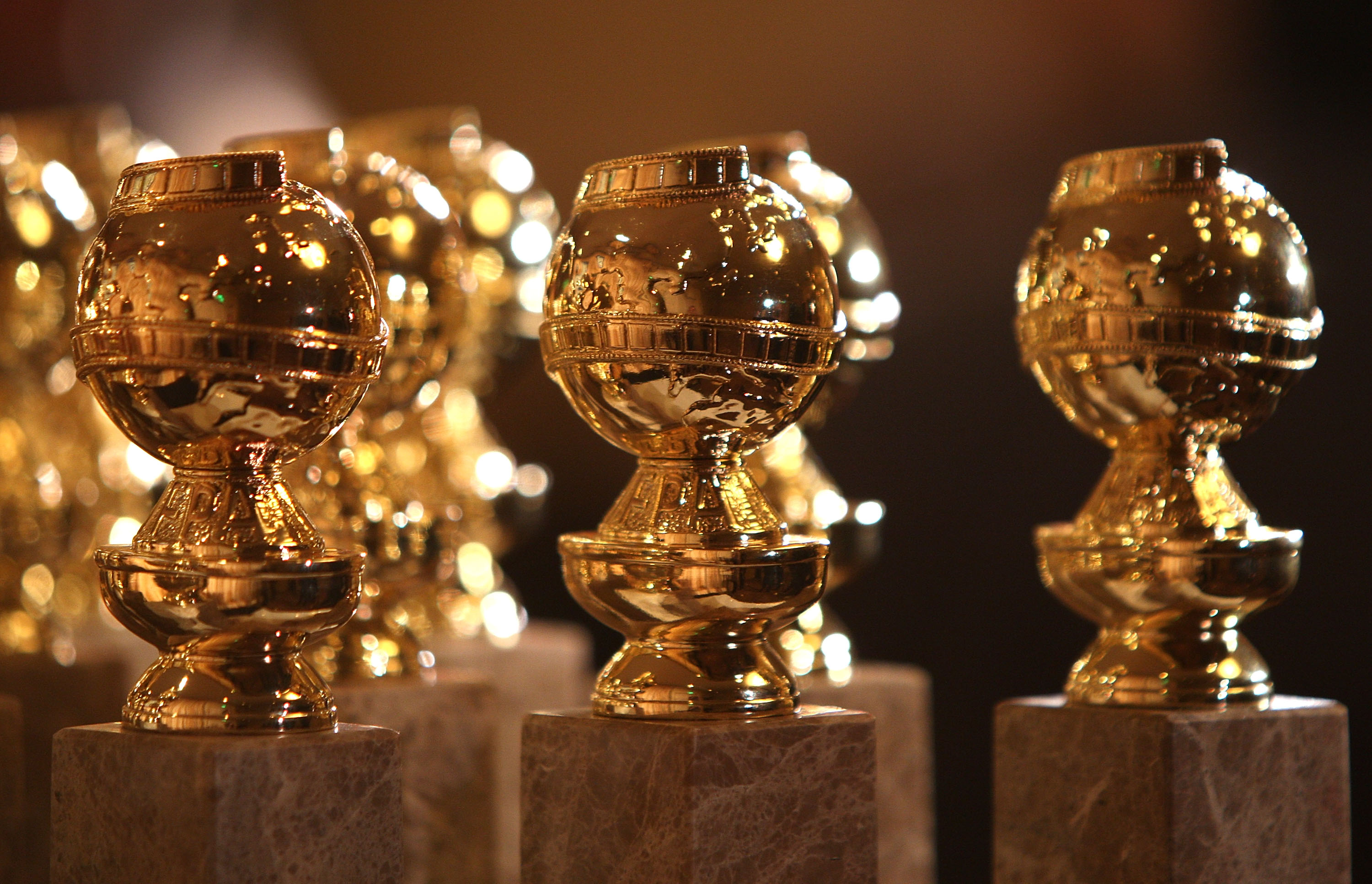 Golden Globes Recap
It's Mostly Business as Usual with Some Few and Far Between Surprises at this Year's Golden Globe Awards
The 74th Golden Globe Awards open in a uniquely Golden Globes way, with a lacklustre musical number where host Jimmy Fallon is upstaged by Justin Timberlake before the teleprompter cuts out and he awkwardly jokes about trying to improvise his entire monologue. He then concedes that, as much as the expected fuck up of a "Golden Globes moment" has already happened in the first few moments of the ceremony, at least he didn't trip, right?
After a few tame jabs at Donald Trump and an unbearably cringey impression of Chris Rock — which the cameramen are sure to find black people laughing at just to prove that everyone is cool with it — Fallon finally lets things get underway with the dapper Ryan Reynolds and stunning Emma Stone presenting the first award.
Best Performance by an Actor in a Supporting Role in Any Motion Picture
Aaron Taylor-Johnson wins for Nocturnal Animals, dedicating the award to his wife and four daughters, which is a nice, if uneventful, kick-off to proceedings.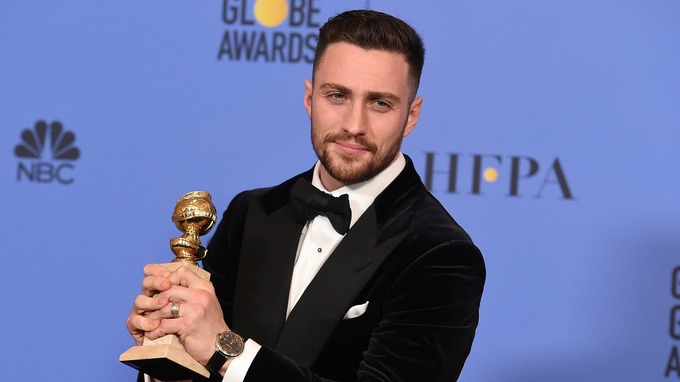 Already looking like their thoughts are on the after-party, Priyanka Chopra and Jeffrey Dean Morgan present the next award.
Best Performance by an Actor in a Television Series — Drama
Billy Bob Thornton, who wins for Goliath (I know, I've never heard of it either), gives a pretty humble speech about acting awards not being a matter of who's the best but simply the sum of everyone's opinion. So, on that note, in my opinion The Americans' Matthew Rhys should've won, but I suppose that's neither here nor there.
After a pretty weak Mariah Carey joke from Fallon, the show continues with a typically fumbly, self-effacing Hugh Grant introducing the first of many features detailing the nominated films of the evening, this one being Foster Florence Jenkins.
Drew Barrymore and Timothy Olyphant make a pretty solid orgy joke before presenting the next two awards.
Best Performance by an Actress in a Television Series — Musical or Comedy
Tracee Ellis Ross wins for Black-ish and, wide-eyed and ecstatic, dedicates her win to the women of colour whose stories and experiences are not always "where the industry looks."
Best Television Series — Musical or Comedy
Atlanta, yeeeeeeeaaah! A visibly flustered and overjoyed  Donald Glover — who created, writes for and acts as lead in the show — accepts the award, thanking "Atlanta and all the black folks" and giving Migos a shout-out. To recap: Migos just got a shout-out. At the Golden Globes. That's fucking amazing.
Once again, we get another weak-as-fuck joke from Fallon about trying to get his kids to sleep before introducing President of the Hollywood Foreign Press Lorenzo Soria. He gives a brief but eloquent speech about the nobility and bravery of the industry and how implicitly proud he is of everyone in the room.
Next Vince Vaughn, looking like an angry thumb in a tuxedo, presents a segment on Mel Gibson's Hacksaw Ridge.
A giggly Nicole Kidman and Reese Witherspoon present the next two awards.
Best Performance by an Actress in a Limited Series or Motion Picture Made for Television
As expected, and very much deserved, Sarah Paulson takes the prize for her role as Marcia Clark in The People v. O.J. Simpson: American Crime Story. Speaking at warp speed, she calls her cast a "merry band of gypsies" and tries to thank pretty much every single person she's ever met in her life.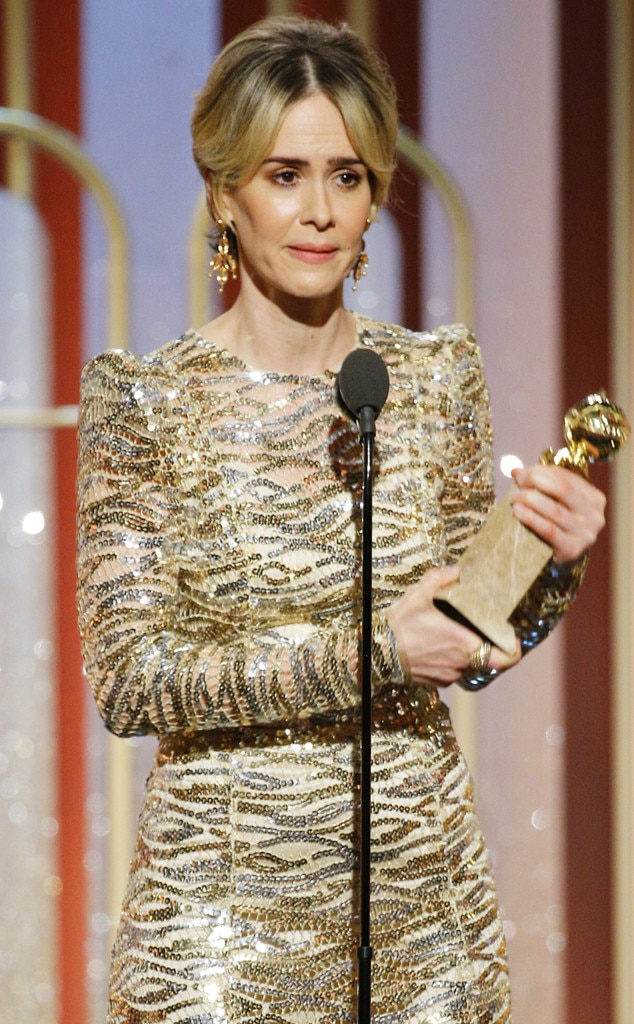 Best Television Limited Series or Motion Picture Made for Television
Speaking of events registering with a, "Well, duh", runaway success The People v. O.J. Simpson: American Crime Story takes the honour for Best Television Limited Series. My quarrel is that, while TPvOJS: ACS is a great show in its own right, fellow nominee The Night Of's gritty commentary on the criminal justice system — and procedural television in general — seems to me the superior show. In the end, TPvOJS: ACS was always gonna win and I'm not mad at it.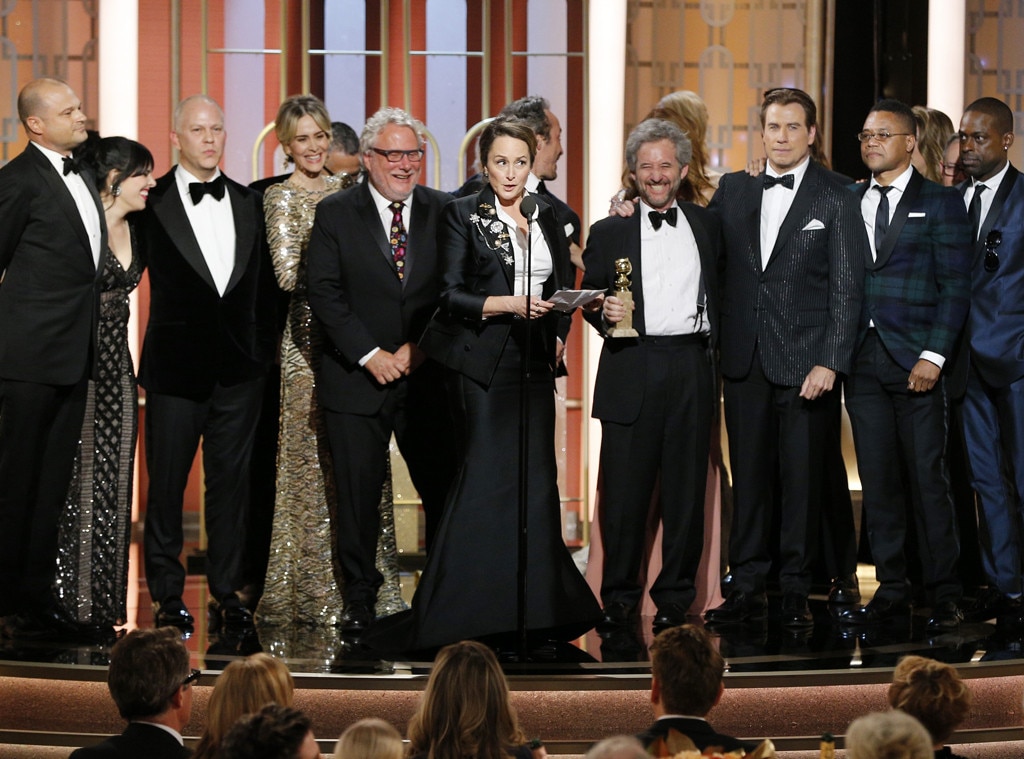 Returning from commercial, Julia Louis-Dreyfus proves why she's the funniest person in the world simply by standing in front of ?uestlove's turntables, with afro comb in place, and spinning his decks.
Then Annette Benning gives a beaming introduction to a fairly placid teaser for 20th Century Women.
Matt Bomer and Naomi Campbell (yeah, Naomi Campbell, which… I honestly have no idea what to say) present the next award.
Best Performance by an Actor in a Supporting Role in a Series, Limited Series, or Motion Picture Made for Television
Hugh Laurie wins for The Night Manager, looking straight down the lens of the camera when his name is called as if to say, "Uh, I don't fucking know either." He starts with, "This is obviously a terrible mix-up", which I wholeheartedly agree with (Sterling K. Brown owns that award, by rights), but he then goes on to deliver the best Trump zinger of the night, saying this will probably be the last Golden Globes ever because it has the words "Hollywood", "foreign" and "press" in its title. Ok, for that, it was kinda worth it; plus, what kind of monster can stay mad at Hugh Laurie.
Sofia Vergara, who makes a joke out of saying "anal" instead of "annual" ('cause she's foreign, I guess?), tells us that this year's Miss Golden Globes — the people who help with the presentation and general ushering on and offstage — are Sylvester Stallone's three daughters… but, y'know, the whole "anal" joke is kinda what lingers.
Then Fallon, who really shouldn't be getting paid to do this kind of shit, warbles through a "haha, clunk" Sting impression before introducing Sting and Carrie Underwood to present the next award.
Best Original Score — Motion Picture / Best Original Song
La La Land wins both awards because, being an original musical, it was always going to have a leg-up on the rest of the competition. Not being someone who pays a mad amount of attention to film scores and, more importantly, having not seen any of the movies nominated, I have very little to add.
Chipmunk-adorable John Legend big-ups a pretty fantastic looking trailer for La La Land.
Then, oh fuck, Fallon's back. Now he's doing some stupid word association bullshit to go from McDonalds to Duck Dynasty and "Say My Name" and, Jesus Christ, can we please get Hannibal Buress next year? Anyway, Michael Keaton presents the next award.
Best Performance by an Actress in a Supporting Role in Any Motion Picture
Viola Davis, who gave one of the most memorable speeches of recent years when she won an Emmy for How to Get Away With Murder in 2015, wins for Fences, giving an impassioned thank you to her co-star, director and inspiration Denzel Washington.
Kristen Bell and Cuba Gooding Jr., who does an angry black man bit where yells at everyone, "Sit down! It's awards time!", present the next award.
Best Performance by an Actress in a Supporting Role in a Series, Limited Series, or Motion Picture Made for Television
Olivia Colman wins for The Night Manager. She's pulled a Maggie Smith and is absent, so yeah, not a lot to say there. Also, Lena Headey should have won because she killed it as Cersei last season, but whatever.
Dev Patel and his cute as a button co-star Sunny Pawar present a segment on the Australian drama they both starred in, Lion.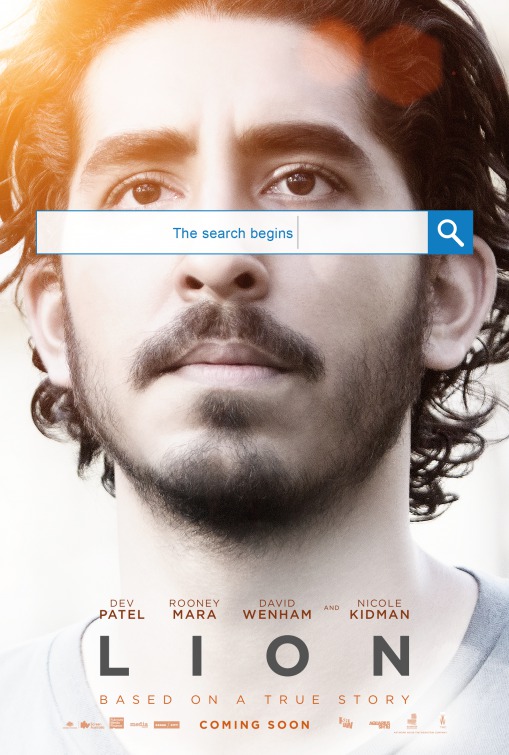 Next, Fallon… y'know what, fuck it, I'm not even paying attention anymore. Then Amy Schumer and Goldie Hawn do a pretty amusing "old gal, young smart-arse" schtick to present the next award.
Best Performance by an Actor in a Motion Picture — Comedy or Musical
Sexpot Ryan Gosling, winning for La La Land, gives a wry, pretty fantastic speech, ribbing fellow nominee Ryan Reynolds and offering to cut his award in three to give a part to co-star Emma Stone and director Damien Chazelle (except that "nobody wants the bottom"). He ends it on a heartfelt note, thanking wife Eva Mendes for her support and dedicating the award to her brother, Carlos, who died last year after a long battle with cancer.
Felicity Jones and Diego Luna, who speaks mostly in Spanish for their segment, presents the next award.
Best Screenplay — Motion Picture
Writer and director Damien Chazelle keeps La La Land's winning streak going, giving a fairly rote acceptance speech in the process. But, c'mon, this is the dude who wrote and directed Whiplash, he's earned the right to be a little staid in real life.
Steve Carell and Kristen Wiig, predictably, are the funniest part of the whole evening, opening with, "Good evening peers and regular people", and offering competing versions of the first animated movies they ever saw: Carrell watched Fantasia the same day his parents got divorced and Wiig saw Bambi after her three dogs were put down… and then her grandpa just sort of disappeared. It's hilarious and, when the camera cuts back after the montage of nominees and they're still comforting each other, it becomes obvious who really should have been fucking hired to host this shit. Goddamn tragedy, really. They then present…
Best Motion Picture — Animated
The giddy producers of winner Zootopia throw another sneak diss at Trump, talking about how important it is to never let hate overwhelm the love in our hearts. Personally, I really like Kubo and the Two Strings, but I'm sure Zootopia was deserving.
Fallon, against the odds, digs deep and finds a semblance of actual human emotion in his silly-putty soul to introduce an all-too-brief, yet still heartbreaking, In Memoriam: the iconic film scenes of Debbie Reynolds and Carrie Fisher, a mother and daughter duo for the ages, flash across the screen set to Reynolds' beautiful reverie, "You Made Me Love You". You can hear the tears pooling on the silk tablecloths.
Casey Affleck, looking like he's just spent six months on a desert island eating coconut stew and dreaming of a barber, introduces the most depressing looking movie ever made about white people crying, Manchester By The Sea.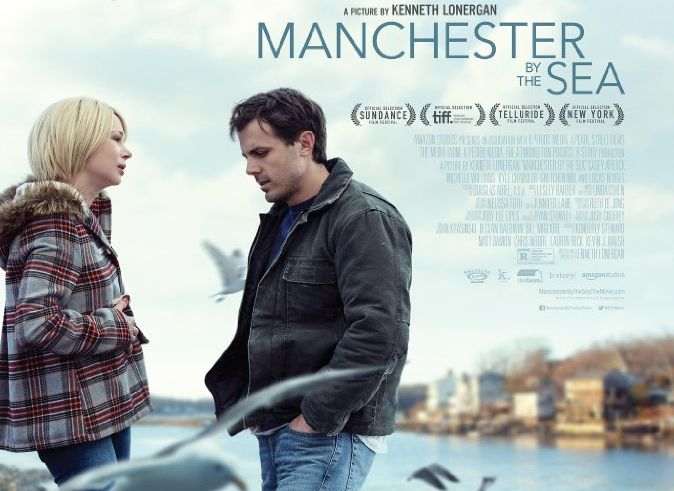 Chris Hemsworth and Gal Gadot, briskly as you like, present the next award.
Best Foreign Language Film
French psychological thriller Elle takes the award. Director Paul Verhoeven (who also directed Starship Troopers, which is a weird thing to think about) thanks his lead actress, Isabelle Huppert, for her commitment to their film and abiding trust in him as a director. Quite lovely.
Anna Kendrick and Justin Theroux, who would have amazing looking babies (just sayin'), present the next award.
Best Performance by an Actor in a Limited Series or a Motion Picture Made for Television
Ok, I'm starting to get a little wary of The Night Manager. No, I haven't seen it, but I'm gonna be that petty, uninformed pundit who wonders how it could possibly be good enough (or at least have performances good enough) to beat out those nominated for TPvOJS: ACS, The Night Of and Game of Thrones. But whatever, Tom Hiddleston wins and, after a pretty standard start to his speech he gets a little… well, let's say, misguided. Relaying a story about some time he spent in South Sudan recently, he talks about how chuffed he was to have been able to entertain the humanitarian workers there who had seen The Night Manager. He was so happy to have been an inspiration to those who suffer through shellings and food crises on a daily basis. Look, I'm no expert, but shouldn't that be the other way around, about how much they inspired you? Seriously, dude, that's a bit humble-braggy.
Fallon came back and I didn't even both taking my TV off mute; maybe he apologised for the whole evening, I don't know. Anyway, a suave-as-always Jake Gyllenhaal gives a quick synopsis of Deadpool before a pretty boring feature on it takes over.

A bearded Jon Hamm and Laura Dern have some unfortunately mismatched comedic chemistry, which sullies the "drama queen" joke leading into their presentations.
Best Performance by an Actress in a Television Series — Drama
Claire Foy, who was spectacular as Anne Boleyn in Wolf Hall, wins for playing another monarch (current Queen Elizabeth) in The Crown. She's ingratiatingly flabbergasted, but still takes the time to point out that "the world could do with a few more women at the centre of it". Goddamn, it's not a beat down but Trump's not exactly getting his balls tickled tonight. Sucks to be him.
Best Television Series — Drama
Two in a row for The Crown, though apparently Hiddleston's wankfest took up so much time that they only get about ten seconds to accept the award. They all seem pretty upbeat about the win though, which is the equivalent of rolling on molly for a group of British people.
Viola Davis, who takes about five extra seconds before starting her presentation to stare down the crowd and get them to hush the fuck up, launches into an impressionistic, really touching speech about the first time she met Meryl Streep. She continues, offering some bracing insights into the intense yet engaging presence that Streep embodies, and bestowing upon her just about the greatest compliment one actor can give another: "You make me proud to be an artist", she says, voice trembling and teary-eyed. Then we get a pretty decent montage of Streep's career highlights before she is presented with the Cecil B. Demille (or Lifetime Achievement) Award.
The breadth and power of Streep's acceptance speech is such that I don't really have the time to cover it today, but it's something we'll be talking about later in the week. Suffice it to say, that big repudiation of Trump and the general prejudices abounding in the U.S. finally happened, and it was incredible. Also, she ended it with a quote from her dear departed friend, Princess Leia: "Take your broken heart, make it into art." Exquisite.
Returning from commercial, we come to a montage of what all these famous people did before they were famous. It's cute and bolstered by a hilarious confession from Chris Pratt that he's "always been an actor"; he then struggles to come up with an example of a job he might have had earlier in his life before settling on "golf boy", which he thinks sounds like a real job.
Chris Pine, looking like he's spent a grueling winter in a cabin with Nick Offerman, presents an assortment of clips from Hell or High Water.
Then a really miserable looking Ben Affleck, flanked on either side by Sienna Miller and Zoe Saldana, presents the next award.
Best Director — Motion Picture
For the fucking win, La La Land brings home one of the biggest awards of the night, with a disbelieving Damien Chazelle looking like he might faint. At this point, it's a shoo-in for Best Motion Picture – Musical or Comedy.
Mandy Moore and Milo Ventimiglia deliver a clunky segue about Charlie Chaplin that leads awkwardly into the next award. Weirdly, though the camera work and directing hasn't been fantastic this evening, it's pretty fucking ridiculous that as the list of nominees is read out no one seems able to find Donald Glover to throw up on the screen. So, instead, we just get an extra-long shot of a surly Nick Nolte.
Best Performance by an Actor in a Television Series — Musical or Comedy
Holy shit, Donald Glover won! He beat Jeffrey Tambor for Transparent; that's actually so insane, I jumped out of my poofy floor cushion. Glover gives a clearly blown-away speech about how, though he wasn't allowed to do magic as a child, as he grew up he realised that "magic is people". Yeah, it's a little corny, but he sells it with a capper about how even his dad is surprised by his success and finally dedicating the award to his son, which… Did you guys know Donald Glover had a kid? I fucking didn't.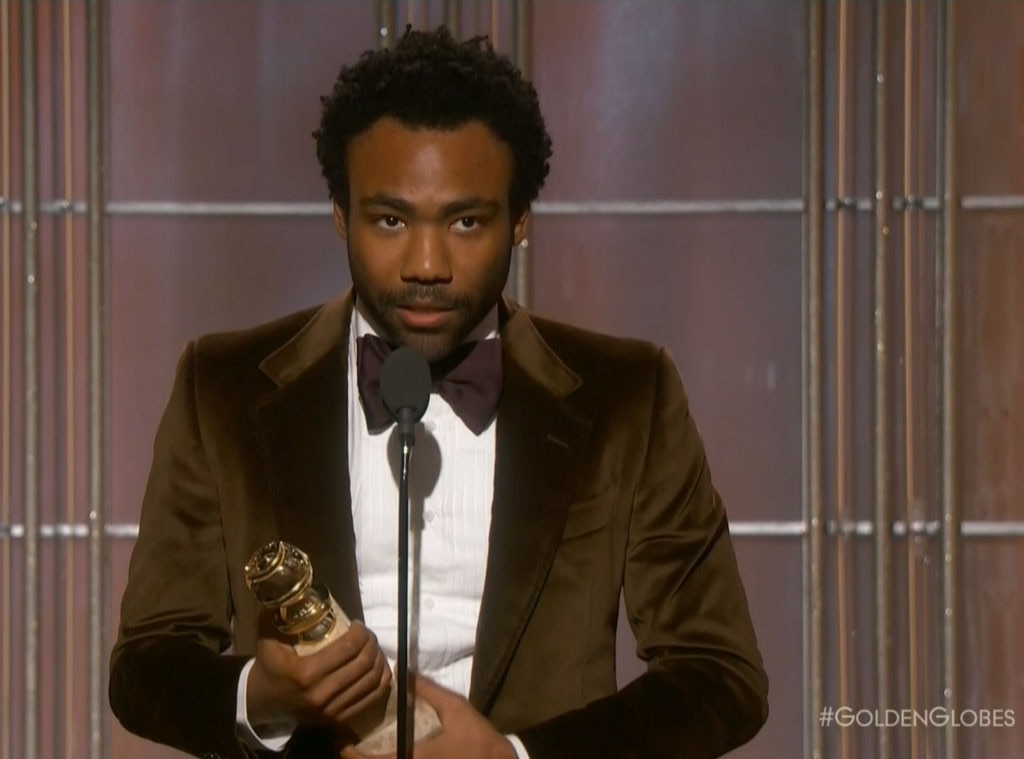 Matt Damon comes out to poke fun at his own win for The Martian last year which, inexplicably, was categorised as a comedy by the Golden Globes ("That fact alone is funnier than anything that happened in The Martian", he quips). He then proceeds to present the next award.
Best Performance by an Actress in a Motion Picture — Comedy or Musical
If it weren't for the palpable joy everyone involved in it has shown, the runaway success of La La Land might be getting old this far into proceedings. But winner Emma Stone's speech continues that trend of buoyant glee, speaking to the power of resilience in this industry and her overall gratitude at just getting to do what she loves and share that love with others. If La La Land doesn't win Best Motion Picture – Musical or Comedy, I'll buy Jimmy Fallon dinner; seems like he could use the pick-me-up.
Pierce Brosnan, instinctively adjusting his cufflinks like only a former James Bond can, introduces a teaser of the intriguing-looking Sing Street.
Brad Pitt — who gets a warm round of applause from the audience that says, "We're not taking sides, promise" — walks onstage to introduce a segment on Moonlight which, at six nominations and so far no wins, is turning into a pretty glaring upset.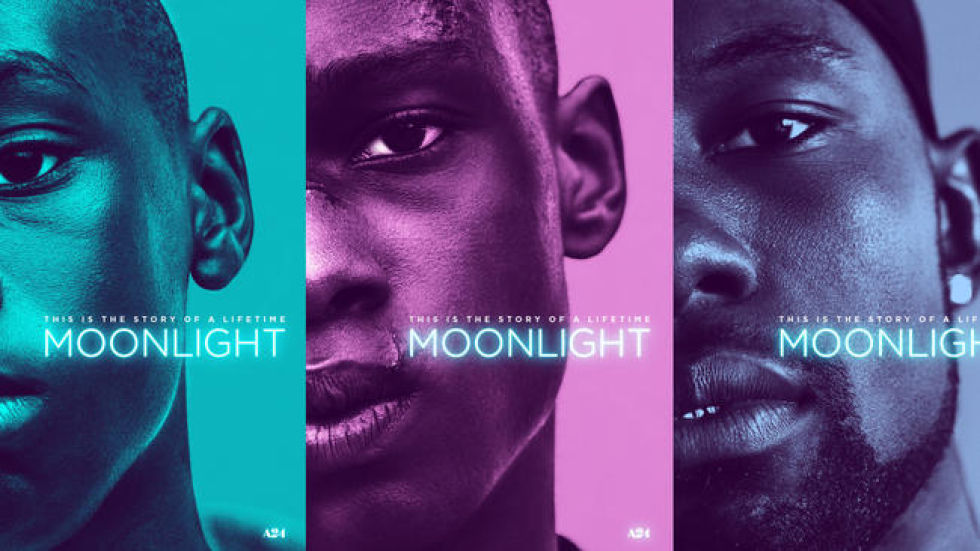 Oh shit, Fallon's back, just as my will to live was returning. I'm not making this shit up (because how could I?): he introduces Eddie Redmayne and Jessica Chastain by rapping "Redmayne and the Chastain" to the beat of "Insane in the Membrane". If the next time he comes out he actually just takes a giant shit on the stage, my notes will read "general improvement." Anyway, Redmayne and Chastain present the most predictable award of the evening.
Best Motion Picture – Musical or Comedy
Yep, La La Land, obviously. Getting close to the end of the night, things need to be sped up to an unruly degree but that doesn't stop the producers from talking over the music that's meant to be playing them off for a solid 30 seconds, espousing the need for music to enter and affect our minds and our souls, especially in today's climate, hint hint.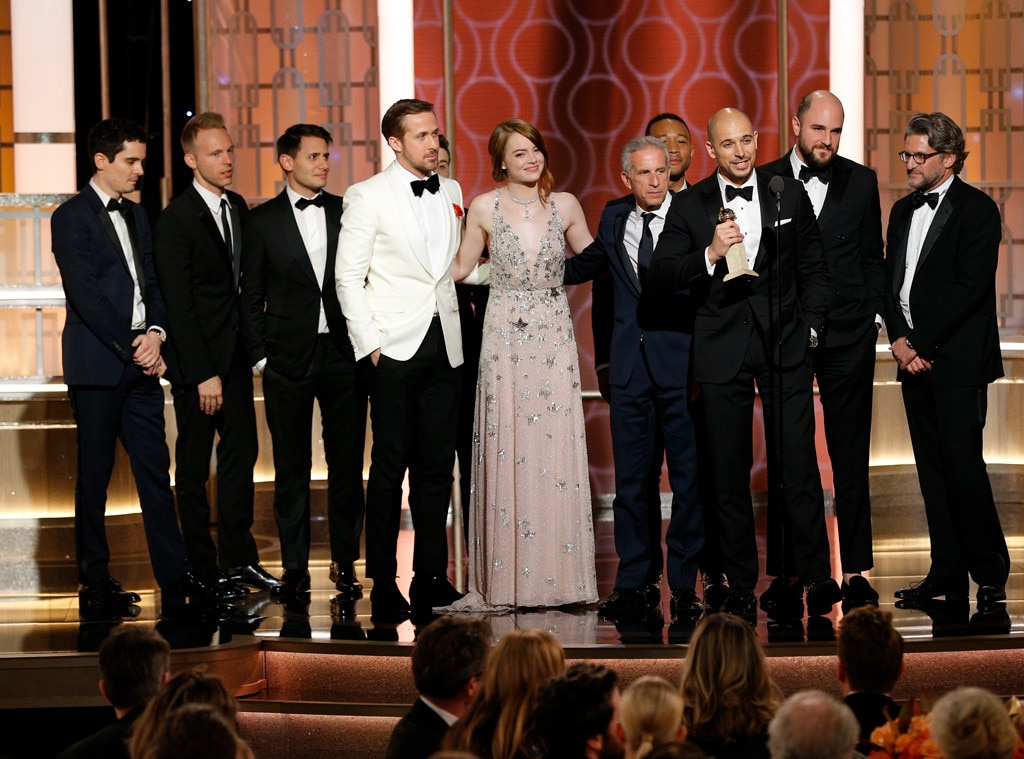 Brie Larson sprints through the next presentation, probably primed with that bump of cocaine they keep side stage for all presenters when it gets to this time of the evening.
Best Performance by an Actor in a Motion Picture — Drama
"Oh man, they're gonna run me off here", says a shrewd Casey Affleck, winning for Manchester by the Sea. It's 10:52pm EST at this point, so they've got eight minutes to shut this thing down. Good news, because that means no time for any more Fallon fuckery; bad news, potentially lovely speeches get the chop. Affleck does his best, but it's fairly rote: thank you to the cast, crew, my fam, etc. Still, good for him; maybe it'll cheer Ben up.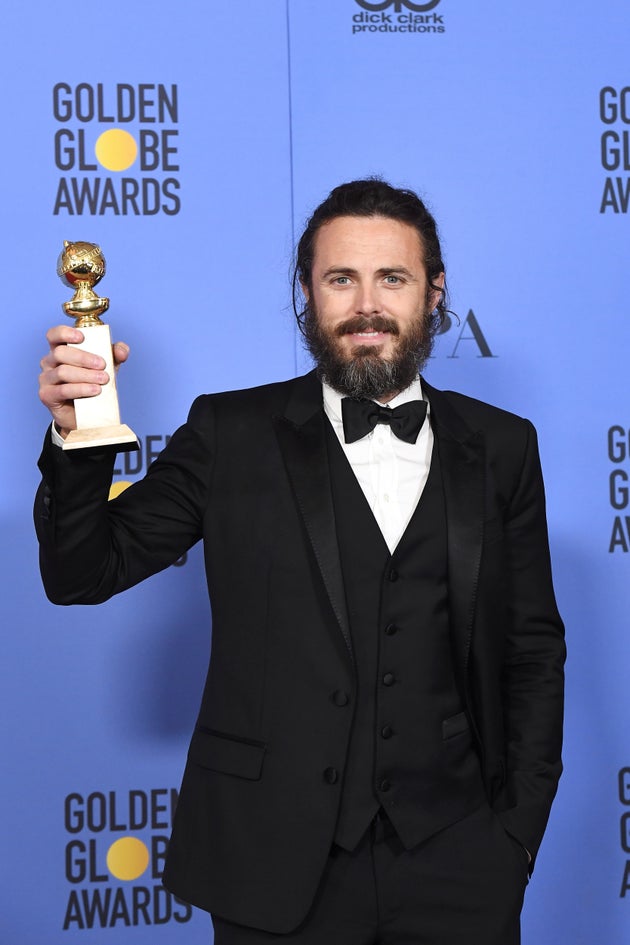 Whoop, spoke too soon: Fallon just made a joke about how Leo DiCaprio hates him. I can relate. Anyway, Leo does his thing, and the next award is…
Best Performance by an Actress in a Motion Picture — Drama
Well, this is a surprise: Isabelle Huppert wins for French film Elle, using her jumbled English to announce with incandescent glee, "Thank you for making me win in a French film directed by a Dutch director… here in America!" There's hope yet, people.
Sylvester Stallone — whose translator took the night off — pairs up with former Rocky co-star Carl Weathers to present the final award of the evening, and we're at about three minutes overtime by now, sooooo…
Best Motion Picture — Drama
Beating out favourite to win Manchester by the Sea, the night wraps up by giving the top honours to Moonlight, with director Barry Jenkins asking people, if they enjoyed the movie, to please "tell a friend, tell a friend, tell a friend". I'm not sure if that's three separate friends or just the same one three times, but there we go.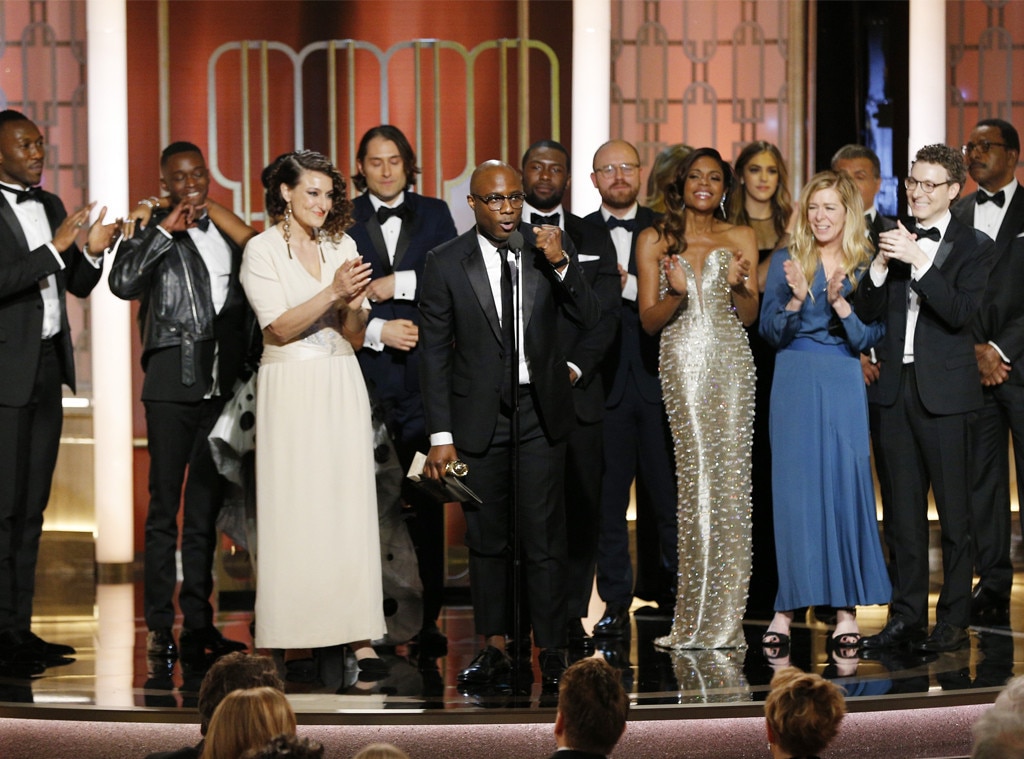 So, across 26 categories, there were about two dozen people of colour nominated at this year's Golden Globes. Hmmm. Your move, Oscars.