6./5. O.J. Simpson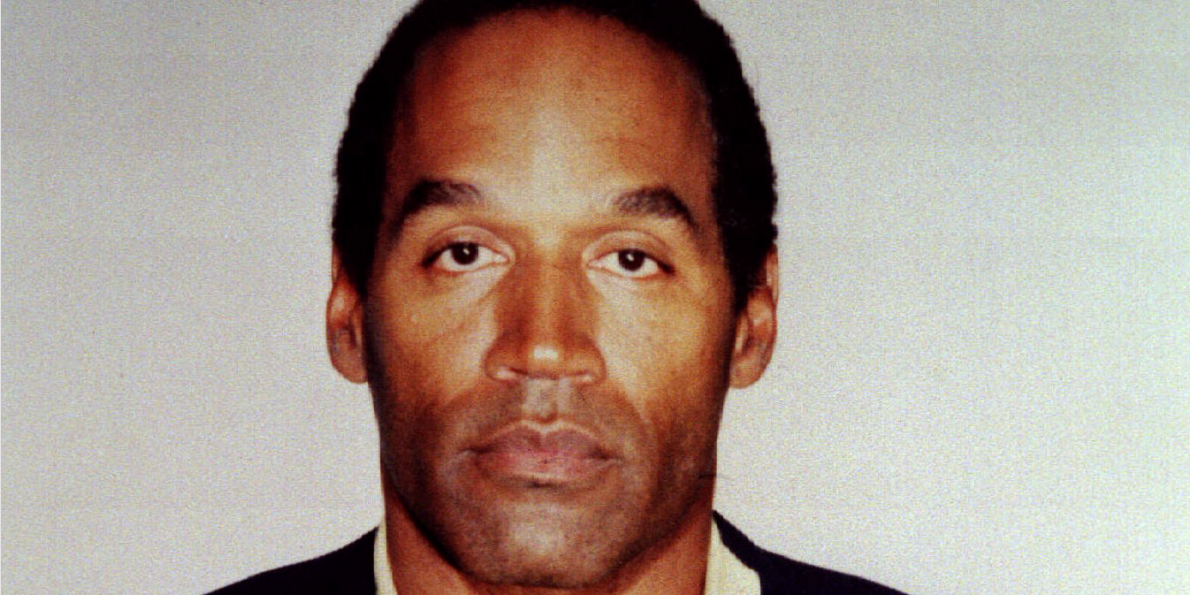 6./5. O.J. Simpson
Made In America, American Crime Story and the
Unlikely Comeback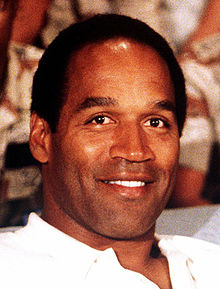 There's no real reason why 2016 was the year that the story of Orenthal James Simpson once again occupied the world's collective consciousness. Nothing about the former footballer's current circumstances suggest much in the way of intrigue: he is 8 years into a 33 year imprisonment at the Lovelock Correctional Centre in Nevada for a crime too ludicrous and convoluted to explain (suffice it to say it is not for the two murders that he almost certainly committed) and will not be eligible for parole for at least another couple of years. There have been no recent tell-all books or interviews and, this time last year, it seemed entirely probable that the man who was once a cultural phenomenon would live out the rest of his life in relative obscurity, a fading relic of a time of social unrest, scandalous malfeasance and racial injustice. Then again, when you consider that the last part of that sentence also perfectly describes the last 12 months in America, there is an inevitable logic to O.J.'s resurgence.
It began in January at the Sundance Film Festival premiere of O.J.: Made in America, later shown on ESPN in June as a five-part documentary series. Made in America, which runs nearly eight hours in total, follows Simpson from his college football days to the trial of the century and beyond, detailing the mountain of evidence against O.J. while also portraying the public's perception of him at the time he was charged with the double homicide of his ex-wife Nicole Brown-Simpson and her friend Ron Goldman. The documentary consists of talking head interviews, conducted with life-long friends of O.J. and people involved in every aspect of his trial, interspersed with archival footage of the rampant mistreatment of African-Americans at the hands of the LAPD. Key examples include the infamous video of the Rodney King beatings and harrowing scenes of the subsequent L.A. riots after the acquittal of the offending officers.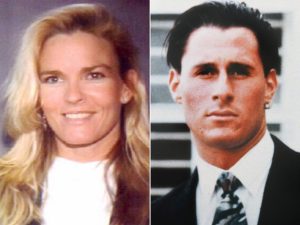 Made in America, which is bursting at the seams with so much raw information as to be almost overbearing, is very smart about the rhythms it establishes with the issues at its core: every half-hour or so that is spent fleshing out O.J.'s early adulthood and abusive tendencies towards women is partnered with crime statistics, accusations of police misconduct and brutal depictions of the public housing crises, not just in L.A. but across the entire United States. It's all context, allowing us a window into a period and collective mindset where a man who lived almost 30 years in the public eye, constantly dissected and under intense scrutiny, was allowed to go free when it was pretty fucking obvious that he straight up murdered two people.
Within this maelstrom of themes and theories, stories and suppositions, the most tangible idea one could extract from Made in America is that O.J. Simpson's exoneration was too complicated to be the result of just one particular thing. It's not that he was too famous and universally adored to be found guilty, nor that his blackness at a time of widespread subjugation of African-Americans was enough to see him found innocent; it was some twisted, inscrutable combination of the two, with many other contributing factors. It must have been a remarkable thing to witness, such a right and proper clusterfuck that could lead to this bizarre confluence of events, a specific time and place never to be repeated where guilt and culpability were less important than anger and retribution. It's almost fitting, considering it was all begun by a supposed crime of passion.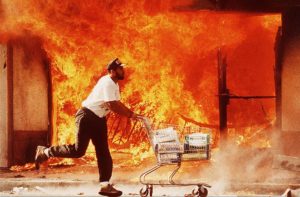 As if that wasn't enough to put Simpson's name back on everyone's mind this year, between the initial premiere of Made in America and its later television broadcast saw the February release of The People v. O.J. Simpson: American Crime Story. Produced and partly directed by, of all fucking people, Ryan Murphy (creator of Glee… I know, right?), TPvOJS: ACS is a somewhat embellished retelling of O.J.'s arrest and interminable trial. Unlike its documentary counterpart, this show isn't interested in painting the environment of the mid-'90s in any particular detail but, rather, dealing with the broad strokes of the era and honing in on the people at the centre of the chaos. Even so, for the most part it seems less concerned with O.J. himself (played competently by Cuba Gooding Jr.) than those who defended and prosecuted him in court.
If the strength of Made in America is its wide-reaching scope, then TPvOJS: ACS's comes to the fore when its focus narrows to its key components: the implausibility of the story, the nostalgic aura of its setting and, most especially, the outstanding cast that was assembled in its making. This is one of those rare and treasured instances where almost every actor involved is operating at the top of their game, where you can't swing a Bronco car door without hitting upon a career-defining performance.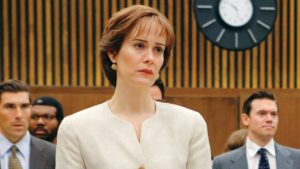 Undoubtedly the standout is Sarah Paulson as Marcia Clark, the beleaguered head of the prosecution who doesn't give a twopenny fuck that O.J. Simpson is the man she will be trying in court. She is instinctively, almost dangerously optimistic and certain that the evidence at her disposal, when measured against O.J.'s fame, will ensure a swift conviction. What she fails to anticipate and attempts to mitigate for the entire series is that the jury, the media and virtually anyone involved with the case finds her extremely unlikable. Whether this is on the basis of her temperament or simply her position as a woman of authority is what she grapples with throughout, in a way that Paulson makes mesmerising and sympathetic without ever vying for pity. Her unwavering belief that she will win out in the end is the year's greatest slow-burn tragedy, both on a narrative level (as, of course, we know the outcome) and an emotional one.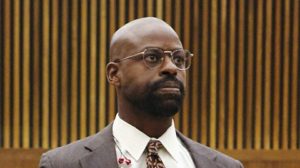 Just as captivating is Sterling K. Brown as Chris Darden, the sole black face on the prosecution, who has the unenviable task of being caught at the cross-section of everyone's interests, maligned by his community for taking sides against O.J. and used by his own colleagues as a form of racial leverage to pander to the jury. Despite his misgivings about all of this, Darden remains committed to the cause, carrying himself with a quiet elegance that is almost breathtaking. He only allows his simmering indignation to burst through to the surface at moments that hit home for him personally and professionally, such as when Clark calls a police officer to the stand as a witness for the prosecution despite Darden's insistence that the man is a hardcore racist who will undermine their case.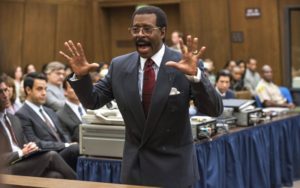 Finally, rounding out the top players is Johnnie Cochran, the flamboyant, incendiary defense attorney who was forever known as the man who, somehow, got O.J. off. Played with wicked relish by Courtney B. Vance, his most iconic moments ("If it doesn't fit, you must acquit!") are couched in a towering righteousness that can be traced back to every indignity he has suffered at the hands of a society geared towards degrading black people. He is a man possessive of deep principles and deeper contradictions, who believes in the fight for equality so purposefully that he is willing to pave over anything that is inconvenient to that plight. On some level, one that Vance does an excellent job of flirting with instead of portraying outright, Cochran knows that his client is guilty; he also knows the significance of what could be achieved, at this very juncture of the American justice system, if others can be dissuaded of that notion. In other words, he is willing to sacrifice the integrity of the law for the personal advancement of the black community. Of course, it didn't work out that way but hindsight, much like O.J.'s most likely release date, is 2020.
O.J.: Made in America is available to watch on ESPN on Foxtel.
The People v. O.J. Simpson: American Crime Story was shown on Network Ten and will be made available on Netflix in 2017.