8. Lost in Translation, directed by Sofia Coppola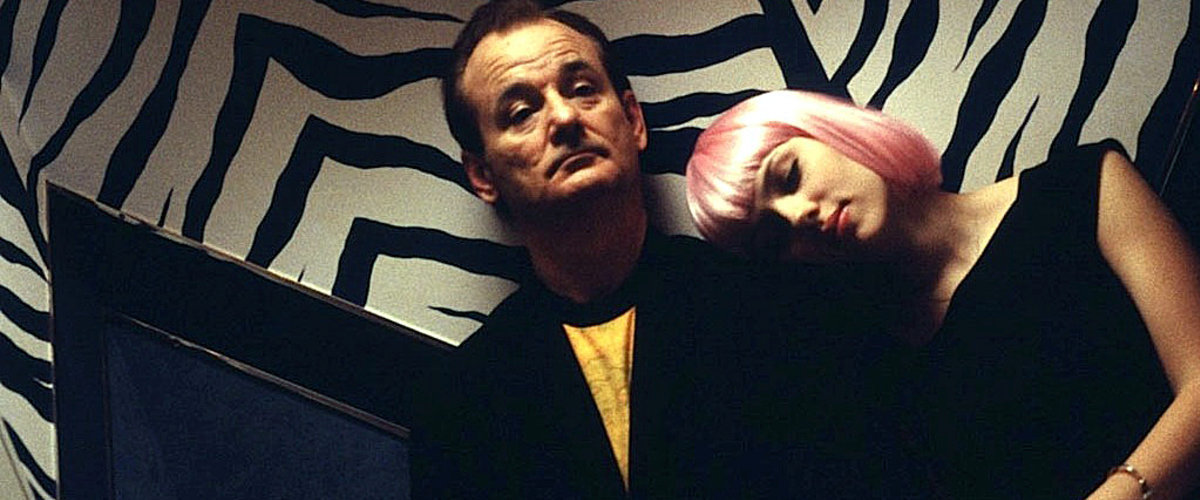 8. Lost in Translation, directed by Sofia Coppola
Let's Be Alone Together in Lost in Translation
Two very different lives collide in this dreamy reflection of disconnection and disorientation. Set in the overwhelming intensity of Tokyo, and in the dingy, claustrophobic hotel within the city, Bob and Charlotte strike up an unlikely friendship.
The characters are themselves from different worlds. Bill Murray, nominated here for an Oscar, is the cynical, famous and aging actor Bob. The seventeen-year old Scarlett Johansson is the youthful, wide-eyed wanderer Charlotte, momentarily caught in the existential abyss. He's in Tokyo to film a large-scale, lucrative liquor advertisement, while she's been dragged along from America to accompany her photographer husband. They are both married to elusive figures, and both discontent with the gaping hole of loneliness. Staying at the same hotel, their friendship is initiated during the dark hours of sleeplessness.
The free shooting style and location settings align us with the character's conflict between being overwhelmed and inspired. Coppola cleverly overwhelms the viewer's senses too, which fully places us in the protagonist's shoes. Japanese is hurled at us, purposefully without the aid of subtitles. We are bombarded with bright lights, fluorescent colours and bizarre practises by Western standards. Amidst this constant activity, incomprehensible language and confounding culture, the protagonist's existing feelings of being adrift in the world are only intensified. And we are right there with them.
The bond between the pair is a beautifully platonic, father-daughter friendship that defies the norm in a Hollywood film. Coppola often reinforces this visually, capturing the essence of their affinity – a sweet, comfortable and simple one, unburdened by the weight of sexual tension or responsibility. The entire film, in fact, contains minimal dialogue, instead calling on our senses to guide our intellect. Many images from the film are thus enduring; notably the opening shot, reminiscent of a Renaissance painting, with a behind shot of Johansson lying in her underwear; and, of course, the tableau of Murray sitting alone in a dark room with dressing gown and slippers.
Of course, the setting – and the title's suggestion of cultural disorientation – merely serves as a metaphor for the wider reach of isolation and disconnection. We see disengagement between individuals in Charlotte's husband and Bob's wife. We are reminded that life itself is an individual experience, one that cannot be wholly shared. Within this are further questions, like where do we fit in? What if we don't slip into the roles expected of us? And, perhaps most importantly, what binds us all together? In this case: humanity.