Oscars Recap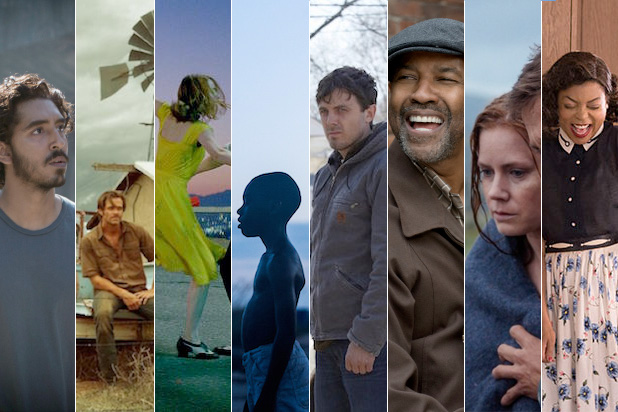 Oscars Recap
The Oscars Deliver Basically What We All Expected,
Give or Take a Single Riotous Upset
Look, I'm not a monster: Justin Timberlake is a veritable G and a consummate entertainer; he can get definitely get it, and should on the regular. Then again, do we really need him to open both the Golden Globes and the Oscars, especially with the fucking song from Trolls? Whatever, it was fine, I guess, and his deadpan mic throw to host Jimmy Kimmel was pretty funny.
"Oh, good, I got a sitting ovation", opens a grinning Kimmel, before acknowledging the division that has overtaken America recently. He also takes it as an opportunity to slam Mel Gibson as the only Braveheart in the room, and one who's definitely "not gonna unite us!" BAM!
Turning more squarely towards Trump, he thanks the Orange Bandit for making the Academy Awards committe seem comparatively like better people: "Remember when people thought the Oscars were racist?" He gets a couple more decent jabs in at this year's nominees (on Hidden Figures and La La Land: "Black people saved NASA and white people saved jazz!") and the tendency people have to praise films they don't even watch ("The only happy ending is the one in the middle of Moonlight. [muted laughter] You didn't see it, did you?") before everything kicks off.
Best Actor in a Supporting Role
We're off to an incredible start, as Mahershala Ali (a black Muslim) takes home the first award of the evening, and deservedly so for his understated turn as a conscientious drug dealer in Moonlight. Pausing to shake Jeff Bridges' hand on the way to the stage, Ali beams with pride while maintaining an elegant, radiant humility (yeah, I'm in love with this guy, what of it?) In a moving, tearful acceptance speech, he thanks his teachers for instilling in him the very ethos of acting: "It's not about you. You are in service to these stories and these characters."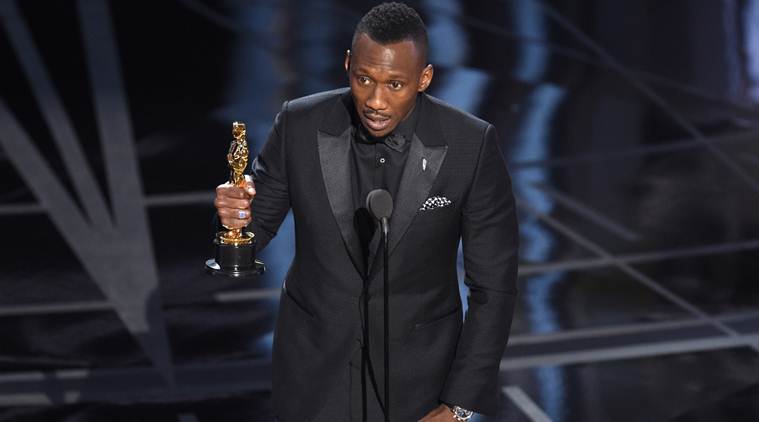 Kate McKinnon and Jason Bateman have a quick joke about how makeup isn't the same as making up (whaaaa?) to present the next award.
Best Makeup and Hairstyling
Well, you fucking did it Oscars: you gave Suicide Squad an award. Are you happy now? HUH?! God, you are so lucky I'm still buzzing from Ali's win or I'd be mailing used heroin needles to Jared Leto right about now. Also, dude starts talking about how his wife passed away and the orchestra kicks in? Nice, Oscars… reeeeeeal nice.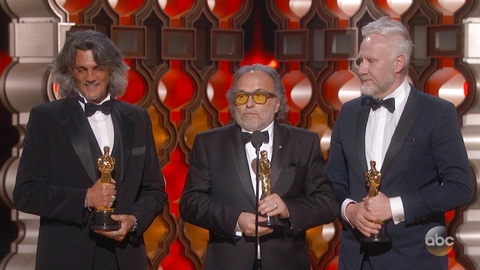 McKinnon and Bateman keep their minimal mondegreen shtick going for the next award presentation.
Best Costume Design
The first film to snatch a statue away from La La Land, Colleen Atwood wins for Fantastic Beasts and Where to Find Them, for making us forget that Eddie Redmayne is just a ginger fetus on stilts. That is quite an effort.
And then we go to commercial to the James Bond theme, whiiiiich… who is running the music for this thing? Seriously?
Janelle Monáe, Taraji P. Henson and Octavia Spencer, the ladies of Hidden Figures, invite the real-life NASA hero Katherine Johnson onstage to celebrate her, until recently, unsung achievements. They then present the next award.
Best Documentary Feature
O.J.: Made in America (which made our list of Best New TV Shows from last year) is an eight-hour miniseries that also counts as a super long documentary because of its initial release at Sundance. Co-producer and director Ezra Edelman gives an acceptance speech, saying that this story of police misconduct and systemic prejudice is for the people of the world who still suffer under the thumb of authoritarianism. Hint hint.
After making a half-arsed O.J. joke and receiving a tepid response, Kimmel counters with, "Almost midway through the broadcast, the crowd turned on Kimmel." He then introduces the next presenter, Dwayne "The Rock" Johnson", keeping his "nicest guy in the world" persona going, leading into Auli'i Cravalho's stirring performance of "How Far I'll Go" from Moana.
Next is a pithy, beaming speech from Cheryl Boone Isaacs, the President of the Academy of Motion Picture Arts and Sciences or, as Kimmel puts it, "A President that doesn't hate the arts and sciences." She vies for the clear improvements that have been made in regards to diversity and inclusivity within the Oscars, saying, "Tonight is proof that art has no borders… it transcends all these things", meaning race, gender, creed and religion. For the first time in years, it doesn't sound like bullshit. Then we segue into a bit where Kimmel rains mints onto people from above set to "Ride of the Valkyries" because… I'll get back to you.
Best Sound Editing
Oh my God, La La Land has lost its second award of the evening, this one to Arrival. I'm not necessarily enjoying this, but could you imagine how fucking funny it would be if La La Land wins nothing?! Like, hysterically funny. Winner Sylvain Bellemare accepts his award with a short, simple and sweet, "All you need is love", which still counts as a political statement in this day and age.
Best Sound Mixing
This is less fun: Hacksaw Ridge now has an Oscar, and La La Land doesn't. Mmmmm. Winner Kevin O'Connell, who has been nominated twenty one times and never been awarded, probably had it coming and was suitably excited. Still, let's just go ahead and hope this is Hacksaw Ridge's outlier win, not because it doesn't deserve them but rather for the same reason I'd be irked by Chris Brown's producer winning a Grammy. It just feels… icky.
Kimmel's back, calling Hacksaw Ridge the story of "a conscientious objector who decides to work with Mel Gibson anyway." These jokes will never not be funny. Then Jackie Chan receives a lifetime achievement award, standing to thank the crowd from his opera box seating.
Mark Rylance comes to stage to wax eloquently about how "Supporting Roles" ought to be known as "Opposing Roles", cherishing the notion of "opposition without hatred", which receives thoughtful if perplexed applause. He then presents the next award.
Best Actress in a Supporting Role
Well, yeah, how was Viola Davis not gonna win this? Having not seen the film, the buzz around her performance has been strong enough to make her perhaps the most guaranteed winner of the evening. Thank God, in any case, because her impassioned speech is so far the highlight of the evening: "There's one place where all the people with the greatest potential are gathered", she says, misdirecting us into thinking she's gonna big-up the industry she's a part of. But then, startlingly, she veers: "The graveyard." Here's her answer to what stories deserve to be told: "Exhume those bodies!" And one for her work as an artist: "We are the only profession that celebrates what it is to live a life." Suffice it to say, her speech in its entirety is a tour de force all on its own.
Kimmel is right to wonder if anyone could follow Davis, quipping, "She just got nominated for an Emmy for that speech." He then reveals that he has a longform prank in motion, where a collection of tourists are on their way to the auditorium and, unknowingly, will be ushered into the ceremony. That Jimmy, what a stinker! Charlize Theron then invites the wise-cracking Shirley Maclaine onstage, who compliments Theron's great taste in choosing her as an inspiration. They then present the next award.
Best Foreign Language Film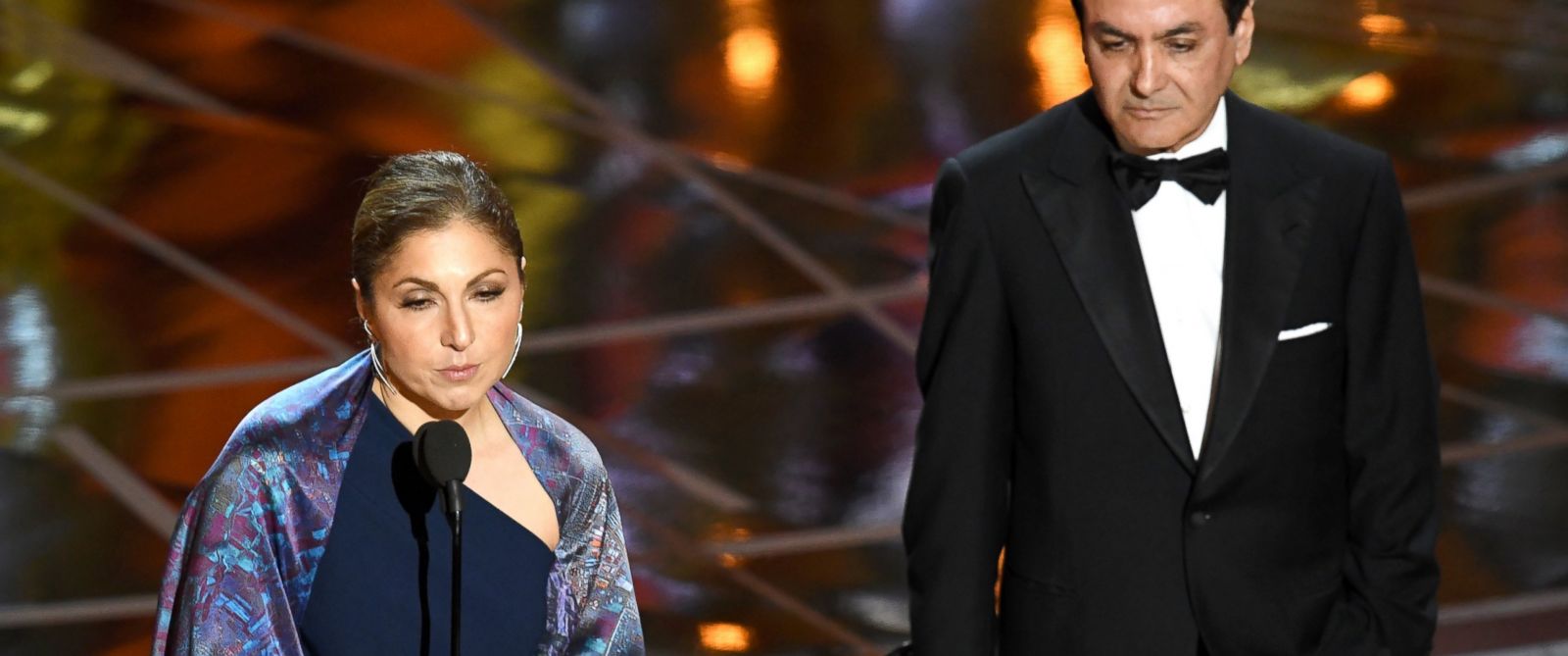 The Salesman wins, which is fucking hilarious because Iranian director Asghar Farhadi refused to attend the awards based on Trump's crazy executive order on immigration. There to deliver a message on Farhadi's behalf is astronaut Anousheh Ansari, who reads, "My absence is out of respect for the people of my country and those of the other six nations that have been banned by an inhumane law", continuing that the most valuable commodity in today's world is empathy. And the crowd goes fuckin' wild.
Then British-Indian actor Dev Patel introduces Sting to sing a guitar ballad about James Foley, an American journalist murdered by ISIS while reporting on the Syrian Civil War. That's a heavy sentence to unpack and Sting's song, while unimpeachably reverential, is basically what you expect: a soft, plaintive elegy for the untimely death of an honourable man. Definitely better than Lady Gaga's awkward grandstanding last year, though.
The saga of the contrived prank continues, with the unaware tourists being held outside the door while Hailee Steinfeld and Gael García Bernal present the next award.
Best Animated Short Film
Pixar alums Alan Barillaro and Marc Sondheimer win for Piper, which I don't have a lot to say about except that both dudes were refreshingly enthused. Also, I'm pretty sure Bernal just ripped Steinfeld's dress by stepping on it. Awkward.
"I'm against any form of wall that separates us", adds Bernal to the next presentation, an off-the-cuff remark that gets a pretty decent reaction from the crowd.
Best Animated Feature Film
Right behind Davis' win for Fences, this was perhaps the most predictable win of the night. It's not that it's underserved; in fact, far from it: Zootopia is an enchanting and potent parable, told in a way that makes its themes accessible to children but not too hamfisted for an adult audience. Kubo may have been more narratively daring, but Zootopia is undeniably more prescient.
Really, really, Oscars, you're gonna give the guys from 50 Shades a platform now? "You look familiar", Dakota Johnson opens to Jamie Dornan. Barely holding back his contempt, while the audience slits their wrists, Dornan responds, "… I'm sure I do." Well, at least he knows this is bullshit. Anyway, they present the next award.
Best Production Design
Heeey, there it is! La La Land takes its first award for it's exquisite sets, which go a long way towards capturing the nostalgic haze and technicolour splendour that makes everything feel like a vaguely attainable dream.
The tour bus riders are here! Can't wait for this to fall on its face. In order of events, Ryan Gosling gives a dude his mints, Denzel officiates a wedding and Jennifer Aniston is forced to give away her sunglasses. It goes for about three hours too long, during which no one can put their fucking phone down ("You know, we're on TV so you don't need to do that" Kimmel chides one guy). This is 2017 in a nutshell: we shepherd people past our front-row celebs, who are forced to smile and act like it's not totally weird that everyone keeps filming them and trying to touch them like gibbons in a petting zoo. Fuck, Kimmel, this was all going so well.
A montage of foreigners giving collective head to American cinema (with some occasional European and Asian shots peppered in) is a nice thought but, yeah, a bit wanky in execution. Then Rogue One's Felicity Jones and Riz Ahmed present the next award, with a cute jab from the former about how computers will replace us all one day.
Best Visual Effects
Fuck me, The Jungle Book just beat Dr. Strange. Those must've been some adorable singing animals, considering Dr. Strange has a scene that called Inception's bluff and just went ahead and had an entire city fold in on itself.
An affable, typically giggly Seth Rogen extols the virtues of Back to the Future, before he and Michael J. Fox step out of the fucking Delorean! "I'm gonna pretend half of that applause was for me", says Rogen, with Fox conceding hilariously, "… Some of it was for you." They then present the next award.
Best Film Editing
Ok, I'm just gonna say it: if Hacksaw Ridge wins anything else, Imma throw stuff. Look, it's a war movie, so an editing award makes sense. Also it went to an Aussie, which is great, and Mel Gibson even managed to throw up a Black Panther fist instead of a Nazi salute as a sign of support, which is pretty miraculous. Still, this is getting… uncomfortable.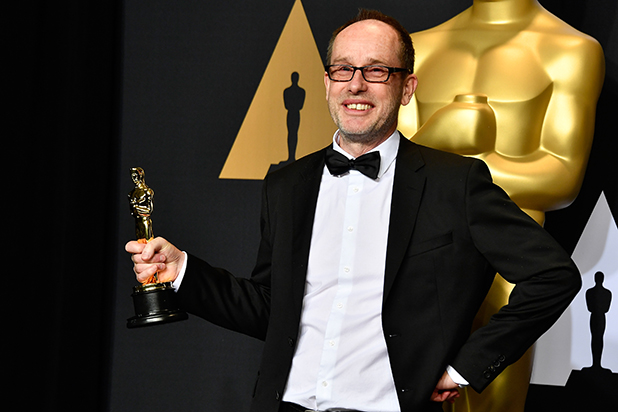 Kimmel has a cute exchange with Lion's Sunny Pawar about The Lion King (geddit?) aaaaand… then more candy rains from the sky. What, no one floated the idea of a mobile bar?
Salma Hayek and David Oyelowo, both typically stately and no-nonsense, present the next two awards.
Best Documentary Short Subject
As a growing sign of protest against Emperor Fuckenstein, the Oscar is awarded to The White Helmets, a documentary on the humanitarian aid workers in the Syrian warzone. Dude even reads an excerpt from the Qur'an, which is as close you can get to wiping your arse with a Trump brand tie onstage.
Best Live Action Short Film
In this category, Sing takes home the award, a notably less political gesture but a spirited one nonetheless.
Kimmel takes a moment to tweet at Trump #Merylsayshi, which is actually pretty funny, before the next presenters. John Cho and Leslie Mann walk onstage to The Pink Panther theme (what the fuck is happening?) and demonstrate that they have incendiary comedic chemistry when recounting the exploits of the recent Academy's Sci-Tech Awards. For a few genuinely funny minutes, they take the piss out of how airheaded actors are when compared with the film technicians that make all of movie magic possible (Cho on his role in Star Trek: "Wait a minute: did we go to space?").
Next, Javier Bardem recalls watching Meryl Streep in Bridges of Madison County and feeling as though he was experiencing an inimitable talent. "I was feeling sort of unrecognised", she jokes as they walk onto stage together to present the next award.
Best Cinematography
La La Land will not break the record for most Oscars this evening, but it still has the chance to clean up in the next eight categories, beginning with this deserved win for it's dreamy, street-light glow and "L.A. at dusk" photography.
Kimmel, who must've been hugging himself after the Swedish Sandgren won, throws in his condolences for the tragedy that happened in Sweden last week. This is followed by a so-so Mean Tweets: Oscars Edition, the highlight of which is Ryan Gosling reading a message from a dude saying, "Go fuck yourself" with handsome placidity.
Then Gosling and La La Land costar Emma Stone introduce John Legend to perform some, uuuh, not great renditions of "City of Stars" and "Audition (The Fools Who Dream)". I mean, one of those two will still definitely win for Best Original Song, but only 'cause the votes have already been cast. This would not have helped.
We're back, with Matt Damon tripping Jimmy Kimmel ("What?" he asks casually) before the host acknowledges Harold Wheeler, the musical director who's been making some proper fucking incongruous decisions this evening. However, when he uses the iconic Pulp Fiction theme "Misirlou" to play Samuel L. Jackson onstage, I start to feel a lot more forgiving. Jackson is here to present maybe the third most predictable award of the night…
Best Original Score
Oh, La La Land, for real? That movie that's basically just two pretty people dancing to amazing original music won the award for amazing original music? Crazy. Getting past the snark, Justin Hurwitz's score is wondrous and ear-wormy in the very best sense. It's a well-earned win.
ScarJo, sounding a little sleepy, assures us all that she's elated to be here presenting the next award, which I have a sneaking suspicion might go to…
Best Original Song
"City of Stars" has been stuck in my head for weeks, and I'm not mad about it. It's La La Land at its best: effortlessly wistful and poetically ruminative. One of the winners giving a shout out to public schools brings things quickly down to the political landscape briefly, while a thank you to "All the kids who sing in the rain and all the mum's who let them" might be the best sign-off of the night.
Jennifer Aniston presents this year's In Memoriam, getting a little choked up at having to add the very recent passing of Bill Paxton to the list. Soundtracked by Sara Bareilles, it's a list that seems twice as long as most years, where icons like Carrie Fisher, Gene Wilder and John Hurt still feel unbearable to consider amongst those lost.
Jimmy Kimmel pulls the funniest skit of the night, drawing on Theron, Rogen and Bardem's earlier apprecaition for classic gems to heap sarcastic praise on Matt Damon's performance in We Bought A Zoo. "The thing about Matt is you can see how hard he's working. It's very effortful…" Ben Affleck and Damon then take to the stage to present the next award, during which Kimmel conducts the orchestra to play loudly over Damon. It's legitimately piss-funny.
Best Original Screenplay
Kenneth Lonergan wins for Manchester by the Sea, which I think counts as an upset by beating out La La Land. Sounding very much like the sort of considered, melancholy man who could make a likewise film, Lonergan solemnly thanks all involved, his wife and makes mention of his father's recent passing. Do they give out hugs backstage? They should start.
Amy Adams present the next award.
Best Adapted Screenplay
Barry Jenkins wins for Moonlight, which is no less gratifying for how likely it was to happen. He and co-writer Tarell Alvin McCraney deliver adamant speeches that seek to embolden the forgotten and passed-over people of the world. "For the next four years, we will not leave you alone. We will not forget you" Jenkins promises, while McCraney dedicates the win to "[The] black and brown boys and girls and non-gender conforming" which is a pretty big step forward all at once to hear spoken about at the Oscars. Oh yeah, I remember that Jared Leto won for playing a trans woman in Dallas Buyers Club but I, uh, like to pretend that didn't happen. Don't we all.
Kimmel returns to pretty much bombard the audience with cookies and donuts, before calling, "Release the coffee!" as we cut to commercial.
Halle Berry takes to the stage to heap praise on the nominees in the next category.
Best Directing
Damien Chazelle's win for La La Land is as much an achievement for what it symbolises as what it doesn't. At 32, Chazelle is the youngest recipient of this award in history, for a film that is irrefutably well conceived and staged. Then again, when asked on the Red Carpet how he felt about potentially being the first black director to win Best Director, Barry Jenkins responded with, "Bittersweet." What he didn't say is that, 89 years in, there shouldn't have to be anymore "firsts", and that the longer we go without reaching those milestones the longer it'll be for it to seem normal and not a phenomenon. Anyway, congrats to Chazelle for breaking the age barrier. Still a few more of those worth smashing, though.
Brie Larson presents the next award.
Best Actor in a Leading Role
Casey Affleck, clearly overwhelmed after receiving a standing ovation, opens with, "That means so much to me." Trying to hold himself together, he tearfully stumbles through half of a speech before conceding, "Man I wish I had something bigger and more meaningful to say." I should say at this point that I'm aware of the hypocrisy of heaping such shit on Mel Gibson and not saying boo about the controversies surrounding Casey Affleck. Alleged sexual impropriety and assault claims were levied at the actor several years ago, and now he has an Oscar. I don't want to be evasive here: the accusations against Affleck are problematic and should not be dismissed. They are deeply representative of the double-standard that exists in Hollywood, both on a gender and racial divide. I can't stress this enough, though: fuck Mel Gibson.
Big dog Leo DiCaprio struts out to the podium to present the next award, defining each nominee by one specific character trait, one of which is simply… "a rape victim." Bit reductive, but anyway.
Best Actress in a Leading Role
Emma Stone takes out the prize, commending the other four actresses in her category and promising to hug the hell out of her friends "when the feeling re-enters my body." Much like her performance, her acceptance speech is endearing, achingly sincere and hard to fault. And, for good measure, we get a couple of shots of Ryan Gosling looking simultaneously proud and dreamy as fuck. We're not worthy.
"Alright, we're reached the halfway point of the show", quips Kimmel, before introducing Bonnie & Clyde stars Warren Beatty and Faye Dunaway to present the evening's final award, though Beatty gets one final swing in at the Trump administration, explaining that the point of politics and movies is "to get to the truth."
Best Picture
So, La La Land won, which we all kinda expected, right? I mean, it was pretty deserving and… everyone's running around in the background looking pretty… concerned…? Wait, why are they all looking at the envelope… wait, what… what is happeni– WHAT IS HAPPENING?! No, no, no fucking waaaaaay! It's Moonlight… Moonlight won. Warren Beatty got the wrong envelope, it was the one for Best Actress and Dunaway just assumed that meant La La Land had won. But it's Moonlight, the story of a gay black man coming to terms with his sexuality in an unforgiving world. Well, how about that…
Look, if I'm being honest, once the shock wears off and we consider that this is a televised awards show that has very little suspense left to it, that haemorrhages viewership year after year, here's where I'm at: they probably planned this. Maybe it was an honest mistake but, I mean, what's the most logical conclusion, that they had two envelopes with "Emma Stone" written on them? Or that, in an effort to drum up attention for international viewership and generate interest for future ceremonies, they went all Steve Harvey with it? If it's the former, then there need to be some serious revamps done in regards to envelope protocol. If it's the latter, well that's pretty cheap and has needlessly fucked with a whole lot of people's evening for ratings.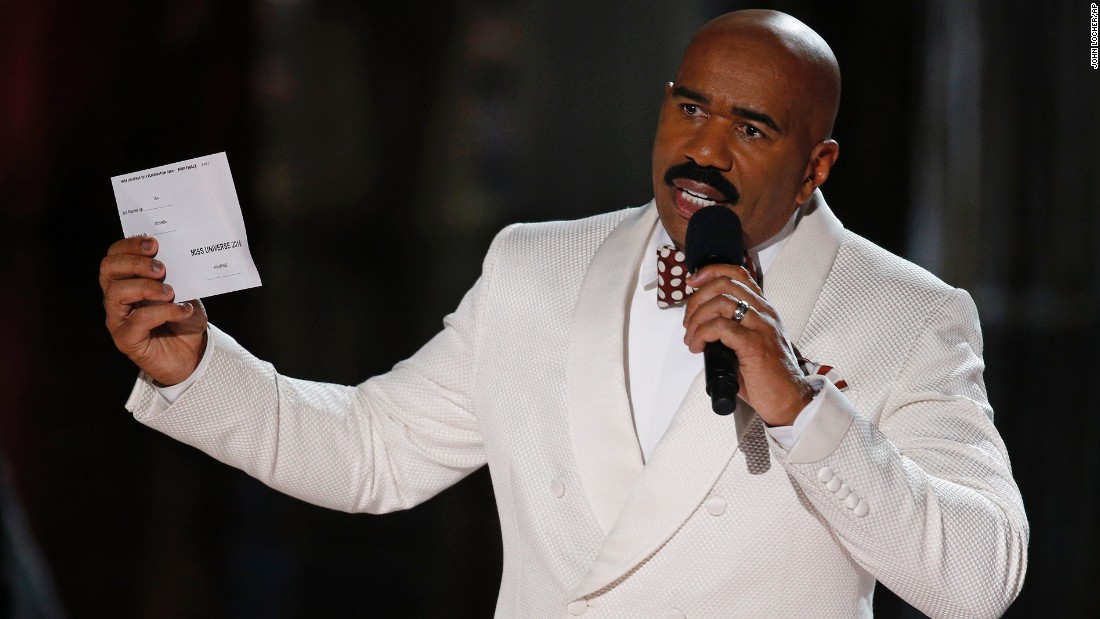 Great work, Oscars. Either you're mad incompetent or insanely insensitive. See you next year.