25 Best Albums of 2017, part 2

25 Best Albums of 2017, part 2
Bangers, Senseless Death and Endless Sex
Bringing our Best Of series to an end, here's the final installment of our favourite albums of 2017. If you're curious, here's part 1.
 15. I See You by The xx
The xx never sound entirely comfortable, no matter their surroundings. Despite their formidable songcraft and the humid potency of their atmospherics, they always treat their music like a flickering flame in a billowing wind, huddling tensely around it out of fear that the slightest breath might extinguish it. It's perhaps the most engaging aspect of their debut album, built as it was upon hushed melodies and rickety percussion, encased in the haunted shell of R&B.
On their third LP I See You, band members Romy Madley Croft, Oliver Sim and Jamie xx (née Smith) continue to play the unassuming saviours of quiet-storm soul music, albeit in a larger setting. Each of them gets at least one chance to showcase their strengths, from Croft on "Performance", a shimmering ballad that mines humanity from her melancholy, to Sim's best showing on the chilling "Replica", scorched by both regret and a masterful guitar figure. And, from the man who assured us good times in loud places, there's the triumphant "Say Something Loving", packed with skyward samples pointing the way towards true salvation.
14. Rocket by (Sandy) Alex G
(Sandy) Alex G – much like Boots and Quentin Miller – made a name for himself as an in-demand writer and performer for other musicians before establishing himself as a solo artist. From Ryan Hemsworth to Frank Ocean, his soulful guitar noodling can be found all over the zeitgeist of the last decade. With his album Rocket, he finally asserts himself as an artist worth singling out, something of a musical character actor who fits many moulds while always retaining his specific appeal.
There's the obvious standout "Bobby", a fiddle-driven dirge that renders any listener a mess of indeterminable emotion, but there's so much more that can be gleaned from G's ouvre. "Sportstar" is a skittish ode to notoriety that flirts with stadium rock without ever leaving the bedroom, with vocals so intimate that the digital processing feels like a quirk of nature. Even more remarkable is its immediate predecessor "Brick", a noise rock excursion that sounds like a flaming hallway of nightmares trying to enjoy itself. Nothing is expected but it's not jarring, either, and it's very worth the resulting eclectic journey.
13. Fuck a Friend Zone by Jacquees & DeJ Loaf
I feel as though I've spent a disproportionate amount of time this year writing about good music to listen to while fucking. Which feels weirdly inevitable, at a time of such external instability: why not lose yourself in the uncertainty of another person? Still, I'm back to talking about Jacquees and DeJ Loaf's enticing Fuck a Friend Zone, which is easily the best full-length release in 2017 that spends its entirety dealing with raw, unequivocal sexuality. It never tips over into perversity, while refusing to be anything less than an uninhibited celebration of sexual deviance.
Is "deviance" the wrong word? FAFZ makes it feel ok, much like the words "naughty" and "dirty" feel alright in this context. It's consensual behaviour between two people within the broad confines of what that entails. It inspires straight-faced descriptions of the vocal performances such as DeJ Loaf "rides" the beat, or Jacquees "teases" out his melodies. There's even some "straddling" involved, I'm sure. But it never feels that silly or blush-worthy, either. Fuck a Friend Zone is that wholly under-represented form of music: the serious sex jam with a smile on its face.
12. Pure Comedy by Father John Misty
Father John Misty doesn't want your worship. I don't think so, anyway. Despite his consistent presence and absence from social media – which seems wildly counter-intuitive to his entire musical ethos – his demeanour is that of a man wise beyond his years who, in all honesty, is already approaching the end of his demographic relevance. He exists in an era and physical presence torn between two hostile realities: that of a hip commentator and a totally beyond-it elder. No one can balance these extremities particularly well, but he does a pretty fucking decent job of it all the same.
Pure Comedy grapples with the absurdity of aging, mourning, documenting, masturbating and worshipping while accepting that maybe you should just keep on doing what you're doing, anyway. Misty doesn't pretend to have the answers, he's just a more eloquent fumbler than most of us. That's why the 10 minute track "So I'm Growing Old on Magic Mountain" lingers so. It reminds some of us of where we are, some of us of where we've been, and too many of us of where we can never go again.
11. Flower Boy by Tyler, the Creator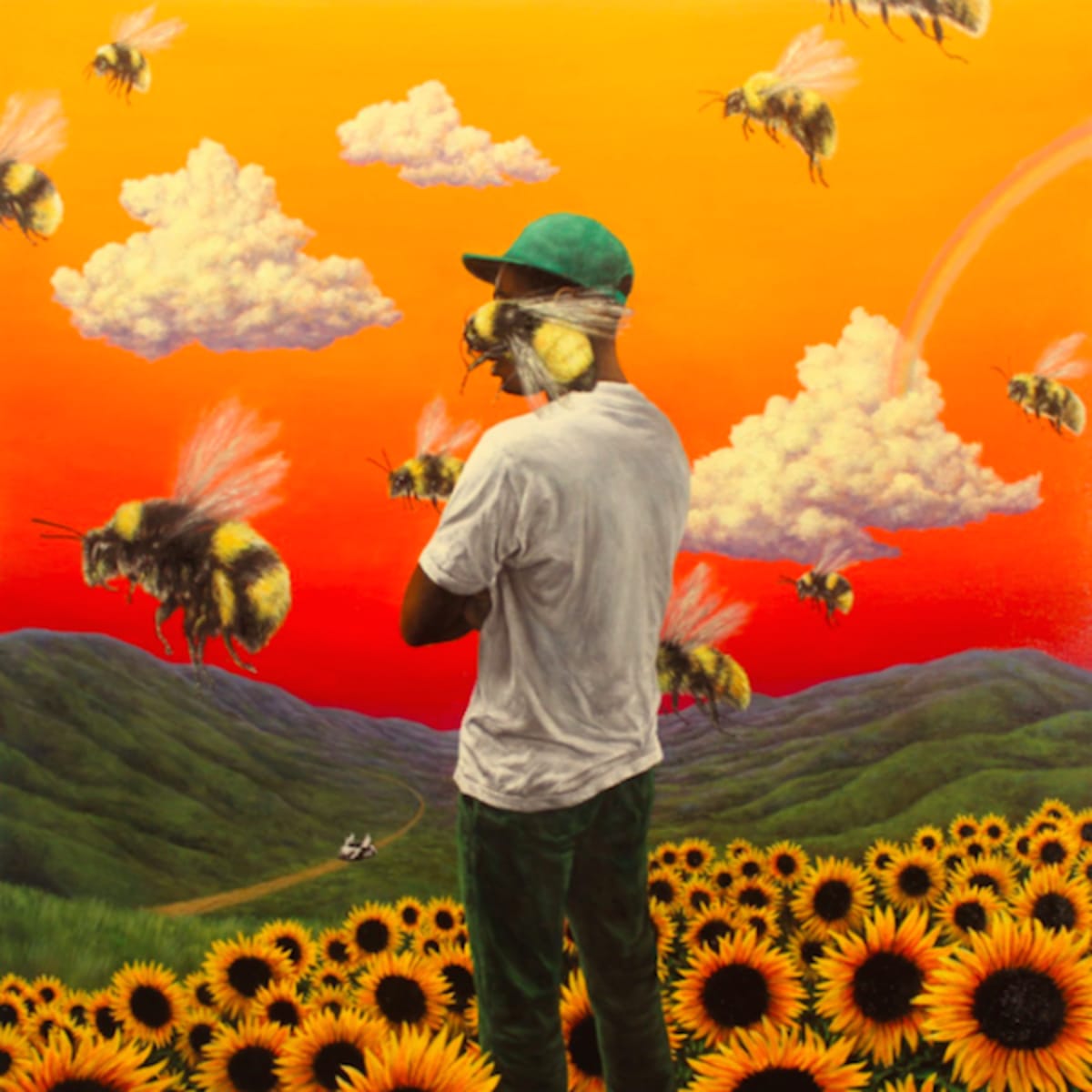 If Tyler the Creator's only impact on the world of hip hop was his horrorcore-leaning style back in the days of Odd Future, he'd remain little more than a gruesome footnote in the era of internet-ascendant rappers. However, his most resilient achievement remains launching a career on the back of shock value before eschewing into more introspective, jazzy territory. Yeah, it's been a bumpy road but, with Flower Boy, Tyler's transition is finally complete.
Gone are the days of his gorey theatrics; in their stead, Tyler's compositions have grown more inviting, even at their most coarse, while his volatile lyricism is far more poetic. On "See You Again" (a song originally slated for Zayn), Tyler and Kali Uchis whisper sweet nothings over a starry-eyed xylophone and mellifluous piano, before Tyler unleashes a fidgety flow as the beat goes subterranean. "Who Dat Boy", meanwhile, is destined to become a WWE wrestler's signature track, and the dewy "Pothole" sees Tyler skilfully rapping around the trappings of fame (featuring a listenable Jaden Smith, to boot!). It's all beyond majestic, as Frankie says best: "We off this woooorld."
10. SweetSexySavage by Kehlani
It's overlong and has a song from Suicide Squad at the end of it. Those are the only two criticisms I can offer of Kehlani's opus SweetSexySavage, and they're both pretty defendable. For one, "overlong" is a relative term depending on how much you enjoy the style on offer which, in this case, is a pounding, prurient funk that's incapable of stagnating when subjected to Kehlani's sultry vigor. And Suicide Squad is just a shithouse movie with a halfway decent soundtrack, with "Gangsta" being a huge part of that halfway effort.
Beyond that, take your pick. From the opening bluster of "Keep On" to the one-two vocal centrepiece of "Everything is Yours" and "Advice", Kehlani slays. From the Akon repurposing "Undercover" to the fucking show stopping "Not Used To It", she never misses a beat, and challenges you to find a more versatile R&B vocalist at every step. Heavenly one second, scornful the next and never less than fully committed to her craft, SweetSexySavage finds Kehlani on attack mode without perspiring a drop, living up to the album's title with a casualness that borders on reckless.
9. More Life by Drake
I was in the minority who quite liked 2016's Views, but even I could see the writing on the wall. Drake's solipsistic, self-pitying R&B/rap style was growing staid, full of typical shouts out to exes and bars corny beyond all manner of fuckery. Shit had to change if this decade's reigning champ of pop-rap was to hold onto his title. Crazily enough, More Life managed to be the exact kind of correction Drake needed, one that simultaneously leaned hard into his wave-riding while ceding the spotlight when necessary.
I mean, one of the best songs on here is called "Gyalchester", a title no Jewish kid from Toronto has any right to claim. "Tings", "chunes" and grammatically awkward placements of "man" spew out all over the place. Guess what? I don't give a fuck, so long as Drizzy keeps pushing out tantalising songs like "Passionfruit", "Madiba Riddim" and "Blem". Meanwhile, "Get it Together", "4422" and "Ice Melts" were excellent showcases for other artists, lending credence to Drake designating More Life a curated playlist as opposed to a proper album. Honestly, whatever the fuck he wants to call it: more please.
8. 50 Song Memoir by The Magnetic Fields
The Magnetic Fields are not a band: they are a fucking event. And, in the same way that I'm still not entirely sure I've heard every track from their defining release 69 Love Songs, 50 Song Memoir remains elusive to me. I definitely sat down (more than once) with the intention of listening to the whole thing in its two-and-a-half hour entirety during the course of 2017. But every time I put my library on shuffle, some stray, unfamiliar song from this gargantuan release jumps out and attacks me. And, honestly, I kinda love that about it.
The process of knowing this album – if it's something you care to know – is living with it, for longer than you might anticipate. Which is appropriate, given that it condenses the life of Stephen Merritt (The Magnetic Fields' driving force) into 50 songs, the span of his life so far. Some are theatrical ("'69 Judy Garland"), some minimalistically funny ("'91 The Day I Finally…"), but most run the gauntlet between mildly curious, quietly amused and a little bit sad. If there's a better, more accurate musical portrait of the malaise of middle age out there, I haven't heard it yet.
7. American Dream by LCD Soundsystem

One of the best exchanges about popular music I've ever heard on television is from Season 2 of You're the Worst. "You like LCD Soundsystem?" one character asks another. "Not really", is the response, followed by the original character conceding, "I know what you mean." Simple, but weirdly accurate: LCD Soundsystem have been a big name for so long, yet they're hard to love. James Murphy's sing-speak vocals and lyrical hang-ups with youth and credibility can be sort of pretentious, while the music itself always seems to exist in a realm of nebulous electronics just beyond my reach.
American Dream, strangely enough, doesn't make any effort to roll back these tendencies. It doubles down on them, hard, and the result is a supremely enjoyable record. Consider the central run of "Tonite", "Call the Police" and "American Dream", which respectively offers up an ironic house track about mortality, a billowing rock tune concerned with lost edges and a drippy, soulfully introspective ballad tinged with LSD. It's a heady mix, even moreso when considering its surroundings, from dire tracks about long-held grudges ("How Do You Sleep?") to, uuh, emotional haircuts ("Emotional Haircut"). It's an album propelled by life, while firmly intent on distracting us from it.
6. DAMN. by Kendrick Lamar
I reject the narrative that Kendrick has made his third masterpiece. Sure, DAMN. is head and shoulders above most hip hop (and other genre) releases in 2017. But it's hardly the flawless gangsta corrective of good kid, m.A.A.d city, or the jazz-inflected opus of To Pimp a Butterfly. At best – in my most "HUMBLE." fuckin' opinion – it's an incredibly solid release with at least a couple superfluous tracks. Honestly, I could happily live the rest of my life without ever hearing "LOVE." or "GOD." again, while both "PRIDE." and "DUCKWORTH." are more admirable in theory than execution.
But it's fucked up that I should even feel the need to steer away from praising such a crisp, indelible album as DAMN.. The five tracks from "DNA." through to "LOYALTY." offer up easily the most confident, dextrous and thought-provoking rap music of the year. And, in case that weren't enough, "HUMBLE." boasts it way into the pantheon, "XXX." single-handedly redeems U2 and "FEAR." reminds us of Lamar's penchant for intergenerational narrative. I'm looking a gift horse in the mouth even trying to criticise this thing and, by the time of Lamar's next album release, I hope it bites my fucking head off.
5. A Crow Looked At Me by Mount Eerie
I don't know who your everything is. Maybe it isn't a person, but I really hope it is. And I hope you never have to endure what Phil Elverum endured with his wife, Geneviève. Shortly after giving birth to her and Elverum's only daughter in 2015, she was diagnosed with pancreatic cancer. A year later, less than 18 months ago, she died. In response and, presumably, as some form of coping, Elverum recorded A Crow Looked At Me under the moniker of his musical project Mount Eerie. I sincerely don't recommend it.
But, again, I don't know you. There's a chance you have something meaningful and cathartic to glean from this tragedy. Let me assure you, as a deterrent and corrective, that Elverum does not. He sees no deeper reason or lesson that can be extracted from this. "Death is real", is how the album opens, and it doesn't much deviate from there. It's a harrowing, physically unnerving work of grief, filtered through minimalistic folk and creaky tragedy. It didn't make me a better person, but there's an inexplicable part of me that cherishes it. Maybe that same part is in you.
4. The Navigator by Hurray for the Riff Raff
It's trite as fuck, I know, but there's something about hardship that brings out the best in people. Which actually, beyond being trite, risks fetishing suffering from a perspective of privilege. Ok, so let's try this again: Hurray for the Riff Raff's Alynda Segarra has absorbed a fucktonne of American culture. As a teen of Puerto Rican descent she spent some of her youth hopping freight trains, escaping the stultifying clutches of New York City and being embraced by the vibrance of New Orleans. No wonder her work with Hurray for the Riff Raff is caustic, restless and full of such irrepressible spirit.
From the haunting chorus on "Entrance" to its grim reprise on "Finale", The Navigator sees Alynda leading her band through a theatrical tale of defiance and an unrepentant will to exist beyond the confines imposed upon people of colour in America. "Hungry Ghost" is the strung-out, wistful sound of travelling coast to coast, breathing in the sea air and forgetting your past. But then the plaintive coo of "Fourteen Floors" and the desperate cry of "Pa'lante" run back towards heritage and historical subjugation with a deafening resolve. "I'm ready for the world" becomes "It felt like a million years", with The Navigator chartering an affecting journey from inner strength to utter exhaustion, one that never forfeits and never truly sits still.
3. Dirty Projectors by Dirty Projectors
It's hard to defend Dave Longstreth at times, especially on this record. His first outing as Dirty Projectors as a solo project, this self-titled release is basically a break-up album and not a particularly enlightened one at that. He calls out his former paramore and ex-bandmate Amber Coffman in a manner that drips with spite and self-righteousness, decrying her temperament and desires for fame. He comes across, in other words, like a dick, a guy who lost the girl of his dreams but tries to frame it like he's the better person by dragging her name through the mud.
All of that considered, Dirty Projectors is just too good of an album for this to matter, or at least for it to matter as much as it should. From the pitched-down agony of "Keep Your Name" to the funereal twinkle of "Little Bubble", the fractured majesty of "Death Spiral" to the bouncy jaunt of "Cool Your Heart", every moment on this album is brimming with passion and sonic ingenuity. And, on a certain level, there's even a way to see Longstreth's pettiness as a necessary element to a separation, regardless of how shallow it makes him seem. Regardless, there are depths to be explored here, derived not from the cheap bitterness of the words but, rather, the inimitable splendour of Dirty Projectors' music.
2. C U L T U R E by Migos
It's hard to write about an album that could be almost as enjoyable if it were simply gibberish. And I don't mean the hedonistic gibberish that Migos bust out on a regular basis. I'm saying that I would still listen to this album all the time if it were comprised of literal nonsense, just a panoply of wordless grunts and frantic adlibs. Such is the appeal of C U L T U R E, a record that's so post-language and inherently about vibe over context that it virtually has its own ecosystem, with its own set of physics and a contained, self-perpetuating legacy.
No song is boring or without merit, because Quavo, Takeoff and Offset refuse to entertain the notion that they aren't the greatest musicians in the world. They're the Black Beatles, goddammit, and nothing on C U L T U R E suggests otherwise. "All Ass" finds booty potential in a campfire pitter patter, while "T-Shirt" exists in the perennially twisting smoke trail of your last jang. "Out Yo Way" is soulful and grateful, "What the Price" resurrects Hendrix's left hand for a slurry singalong and "Big on Big" is shitting on ya whole life. So go on and point me out who else is making shit that sounds so ridiculous feel so smooth and slippery.
1. Life Will See You Now by Jens Lekman
Every song on Jens Lekman's Life Will See You Now is too corny to work. Just listen to the titles: "Evening Prayer", "How Can I Tell Him", "Dandelion Seed". You're gagging right? Here's the thing: Lekman's whole style is predicated on getting away with bald-faced sentiment through his sheer earnestness. There's no irony, deception or manipulation at play here, just a guy who sees the world as full of benevolence and wants to revel in it. He thinks you deserve to as well, which will probably put you immediately on edge and set you towards distrusting him. But he's pretty good at dealing with that.
It helps that his music is deceptively layered, with melodies that pierce your cerebellum and waylay your defences, allowing you to pick up on the nuances only after repeat listens. There's the bolstering choir on "To Know Your Mission", the crooning refrain that underhangs "Hotwire the Ferris Wheel", and the charming, shoe-tapping percussion on "How Can I Tell Him". These splendorous, beautiful songs lend credence to his perception of the world as a circumstantial miracle, where any place can be the setting for emotional revelations. A wedding, an abandoned fairground, the walk home from a hectic party: they all possess the same potential for joy and melancholy, as well as the reckless impulse to give into both.
That said, Lekman rarely works in half-measures. On the jubilant "How We Met, The Long Version", the cosmos themselves align just so he and his beloved could encounter one another. "Evening Prayer" features upbeat "dooh-dooh" vocals crafted around a song about a 3D printout of a tumor that nearly killed someone. And "Postcard #17", the one truly solemn track here, confronts the very notion of fear at its most abstract and pervasive, with Lekman still finding some form of triumph by the end ("Is that what I was scared of? Fucking ridiculous"). This is why Life Will See You Now amounts to 2017's best album, not just for its creativity, whimsy and compassion, but for its commitment to an easily derisible worldview. It doesn't for a second try to be cool or subversive, and that in itself is something quite extraordinary and worth celebrating.