SUNDAY SHUFFLE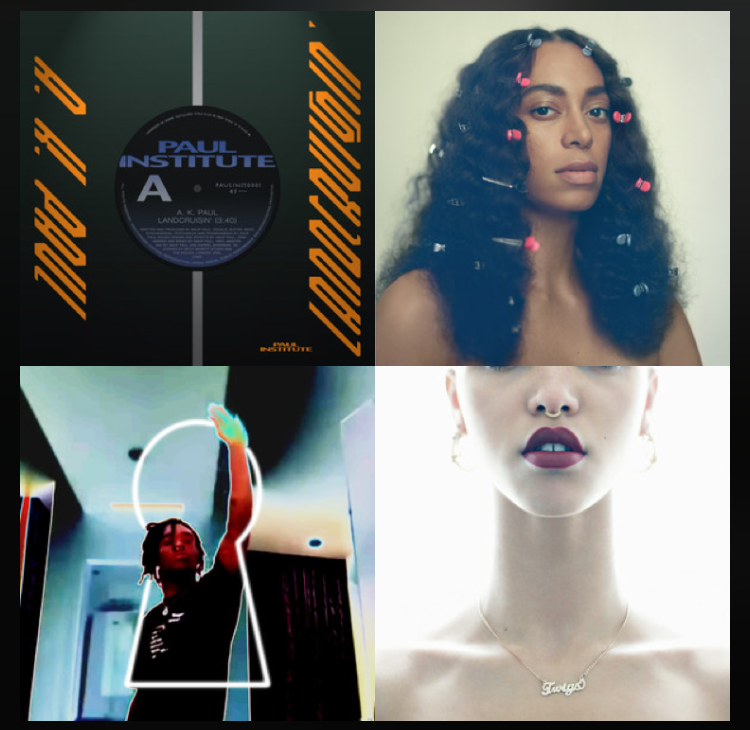 SUNDAY SHUFFLE
Featuring Solange, Shame and Adele
The Sunday Shuffle is a weekly Popticon feature, a collection of ten songs comprising the best music from the last decade. Check out our Spotify playlist below, which is refusing to embed:
https://open.spotify.com/playlist/15Tngcz9YcgdNp20L4X4Nl
---
"Landcrusin'" – A.K. Paul
Blending Nintendo fan-slaps and a fuzzy groove that sounds housed in an engine block, A.K. Paul – the lesser known brother of the enigmatic Jai – keeps things relatively straightforward, if in constant motion. This track is like a fidget spinner for the ears: a whirling sonic palette that's more engaging when it wobbles. The vocals, either high and wispy or stiff and declarative, are as much an effect as the dozen other percussive fillers that rattle the trunk, so the one discernible lyric becomes something of an explanation for all the damned restlessness: "I'm landcruisin'".

"Don't Touch My Hair" –
Solange, feat. Sampha
"Speaking of lesser-known siblings…" That might've worked five years back, but now it reads as either mean-spirited or tragically out of touch. In fact, since the release of "Losing You" in 2012, Solange Knowles' ascent has been so striking precisely for how dissimilar it is to Bey's, opting for a sound more suited to lowkey, smokey venues than the stadium crowd. Less vocally bombastic but more textured than her big sister, Solange's music is epitomised by "Don't Touch My Hair", a gorgeous, spacious track that grows from slow, angry ripples into a quiet triumph of personal reclamation: "You know this hair is my shit, rolled the rod, I gave it time". Don't touch it.

"New Patek" – Lil Uzi Vert
Too much is being made of that goddamn octopus metaphor. It's certainly funny, but if you zoom out from the stupid punchlines and marble-mouthed Drake namedrop you'll find out something truly astounding about Lil Uzi Vert. Namely, that he's the best hip hop vocalist working who's basically a progressive musician. Young La Flame might be able to will "SICKO MODE" into the millennial "Bohemian Rhapsody" through production wizardry, but no other rapper can keep the feral pace and sharp pop instincts Uzi brings to his verses during the breathless six minutes of "New Patek". Or at least, no one else seems game to try.

"Papi Pacify" – FKA twigs
From the jump, FKA twigs' music has occupied that particular intersection between sex and obsession that neo-R&B tends to gravitate towards. Her voice – an inimitable lilt that can slither into your ribcage and pierce your aorta before you've even drawn a breath – has the distinct and unsettling allure of perfume laced with poison. On "Papi Pacify", a procession of ominous textures (crunches, warped organs, ghostly moans) threatens to swallow twigs whole, before her whispery, sharpened vocals enter to give form to the chaos. Like fingers in a whirlpool, she hardly stems the flow, but her spectral presence is still felt.

"Father Stretch My Hands Pt. 1" – Kanye West
Kanye West's innovations as a producer are too many to claim that one in particular is his most influential or ingenius. If you're going for most unexpected, though, turning the tagline "If young Metro don't trust you I'm gon' shoot you" into an integral part of the beat switch-up on "Father Stretch My Hands Pt. 1" is certainly up there. Atop yet another strangely emotive CuDi vocal turn – which he only seems capable of with Ye at the helm – West drops the infamous "bleached asshole" line, says "I don't even wanna talk about it" and then continues unbidden for another seven bars, all over a beat as indulgent and sumptuous as the man himself. Nothin' unwanted.

"One Rizla" – Shame
If Oasis embraced their working-class roots and championed all the regular blokes who could never be arsed to learn the guitar, the similarly scrappy Shame are instead concerned with the pre-fame poverty that comes with authenticity. Being in a successful rock band's all well and good, but what about in the meantime? "Wallet's empty, I'm going broke" croons lead singer Charlie Steen, before a slight snarl creeps into the follow-up, "But I'm still breathin'". The central riff, both sunny and murky, shines like light reflecting off piss in the gutter, which perfectly suits the refrain: "Well I'm not much to look at, and I ain't much to hear." He's got it half right.

"Bad and Boujee" –
Migos, feat. Lil Uzi Vert
Here we come to the curious case of "Bad and Boujee", the Migos song that inexplicably – just as the trio's cultural cache seemed to be running out near the end of 2016 – revived the rabid interest in the group that first started when they insisted on saying "Versace" over and over again in 2013. While nowhere near as catchy, the hook to "B&B" (and other related incidents) was just as easy to memefy as "Versace", sending the track careening into Billboard and viral success. What's the song actually like? Pinpoint the exact middle ground between bad and boujee, and you'll find it.

"Someone Like You" – Adele
"Are you ready to have a great night?" Adele asked a Sydney crowd in 2017. They shouted their assent, enthusiastically. "Too bad, 'cause all my songs are fucking sad!" she shot back with a wicked grin. Thus, the conundrum of Adele: how much can you truly enjoy repeatedly punching yourself in the heart? Impeccable songcraft helps, something that even Adele's sharpest critics would struggle to argue against. But on "Someone Like You" – as with all her best tracks – it's the English songstress' gift for emotional clarity that is most crucial. Between the tragic declining scale of the words "dreams came true" and the full-throated devastation of the chorus, there exists a gulf of feeling that few would dare to reach, let alone give voice to. And what a voice.

"Blame Game" –
Kanye West, feat. John Legend
Both accusatory and conciliatory, Kanye's "Blame Game" ditches lyrical profundity and musical subtlety for directness. "Self" is used to rhyme with "self" during an entire four-bar, heavy BDSM references emerge and land with an aggressive thwack, a curious toddler seems to be in control of the pitch modulator during West's verses and a very corny acronym for L-O-V-E (that Ye didn't even write!) is dispensed during a spoken word interlude. As with everything he does, there are no half-measures for West. In the wake of a break-up, he doesn't scrawl angry notes on bathroom walls and burn old photos; instead, he carves a broken heart with both your initials into the moon and napalms your hometown. And, of course, at least some of it's your fault.

"You Might Think He Loves You for Your Money but I Know What He Really Loves You for It's Your Brand New Leopard Skin Pillbox Hat" – Death Grips
In case you didn't know, Death Grips – the world's foremost experimental/industrial hip hop/noise duo – are into Bob Dylan. Not that you'd know it if you don't get the title reference; seriously, it's like finding out that BTS are secretly into Captain Beefheart. Continuing with their almost decade-long enterprise of inciting riots and/or psychosomatic debilitation through just their music, "You Might Think He Loves You…" opens with a tortured siren screech and the unhinged babbling of a madman (MC Ride). It gets worse. The sounds of a jet engine attempting to eat itself pummels you almost literally senseless; orientation becomes difficult. Even the syntax takes a beating: "Come come fuck apart in here, I". It doesn't matter which way's up if you can't stop screaming.