SUNDAY SHUFFLE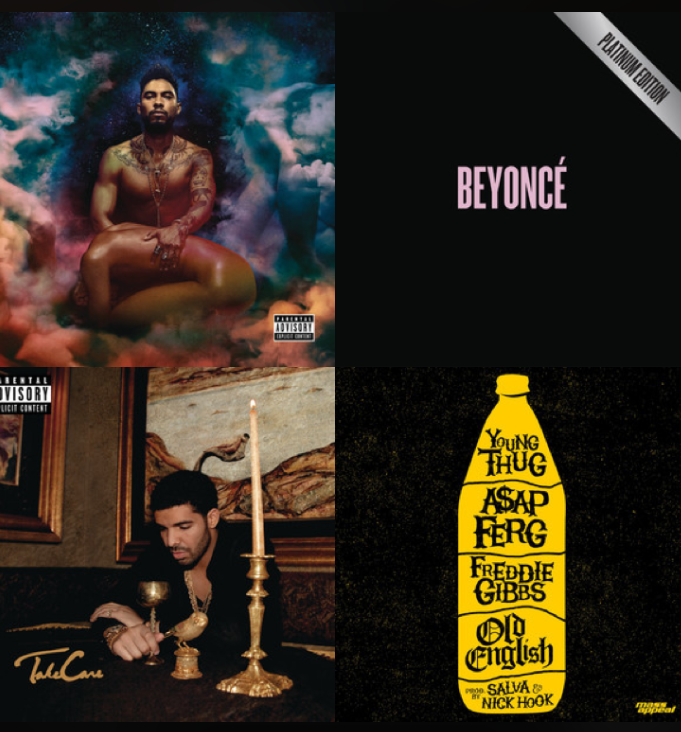 SUNDAY SHUFFLE
Featuring Jai Paul, Beach House and Drake
The Sunday Shuffle is a weekly Popticon feature, a collection of ten songs comprising the best music from the last decade. Check out the link to our Spotify playlist below.
(N.B. Spotify no longer allows custom playlist embedding because ¯\_(ツ)_/¯).
https://open.spotify.com/playlist/0gm2FtG3hxoermJMFZJ8Ob
---
"the valley" – Miguel
"There are no Miguel sex tapes. They don't have a screen big enough for my antics." So says the man himself. Not that it matters if you never actually see him in action, though, as the San Pedro-born lothario has a firm enough grasp of eroticism and cheeky sensuality (not to mention a vibrant sun-kissed croon) to make a song like "the valley" sound basically pornographic. A lot of what you hear is par for the course – synths that seem less to pulse than moan, plus a gasping refrain of "Lips… tits… clit… slit" – though there's an undeniably bookish charm to a guy who insists on using the word "expedite" to describe pulling someone's panties to the side. Antics indeed…

"Partition" – Beyoncé
It's hard to conceive of now in the wake of so much Lemonade, but the surprise release of Beyoncé's self-titled LP in 2013 was a huge gamble for the singer-turned-goddess. What could've been an experimental misfire turned out to be a peculiar but engaging album, full of sombre textures and progressive beats that basically count as outré for a popstar. Hence "Partition", a libidinous two-parter that starts by gyrating at the club and barely makes it to the limo's backseat before its buttons burst (though the timeline is a little confusing). There's an ungainly structure to the whole thing that mimics intoxication and lust combining: war drums and buzzing bees, sirens and camera flashes, whirrs and snaps, all emanating from a tiny gap in the partition that we're desperate to get a glimpse into.

"Genevieve" – Jai Paul
Plunderphonics gets a bad rep, largely because the word "plunder" connotes thievery, clumsiness and a lack of integrity. But, stretching back from John Oswald in the '80s to today's samplers, the intent of mining old music has always been the same: not to steal or curate, but to alchemise. Jai Paul's soulful "Genevieve" – an unreleased track of his that was leaked along with several others in 2013 – is such a song, a Frankensteinian creation where the showing seams are its greatest virtue. Comprising woodblocks, Tetris pings, guitar licks and enough random percussion to syncopate your heartbeat, it all gravitates with cluttered grandeur around Jai's falsetto, nostalgic and wistful as ever: "Let's go back to how we used to be."

"Crew Love" – Drake, feat. The Weeknd
As with a lot of Take Care, Drake's breakout 2012 release, the vibe here is immediate and unchanging: high and miserable. Over a minimal beat of twinkling keys, a single throbbing 808 and an occasionally stuttering throttle that punctuates each set of bars, Drake and The Weeknd (born Abel Tesfaye) take the time on "Crew Love" to skewer any misconceptions that this is any fun for them. For Abel, it's all rainbows (sure), Polish girls (ok?) and groupies who refuse to take their nose off his keyboard (…the fu–? Oh, right), delivered in his signature self-pitying (and irresistable) yelp. Meanwhile, Drake raps about how much work this all takes, hitting upon a rare moment of sincerity that's all the more tragic for how short-lived it is: "I think I like who I'm becoming." Someone hold Pusha's beer…

"Old English" – Young Thug,
feat. Freddie Gibbs and A$AP Ferg
Even if it weren't a good song, "Old English" would still be significant for one reason: it's one of the few moments in hip hop where Young Thug gets shown up. Despite a primo hook that's only one anthropomorphic creature away from a nursery rhyme, Thugger chokes on the verse, sounding atypically unenthused, uninspired and (worst of all) unweird. Thankfully, Freddie "Gangsta" Gibbs comes through, militant and quotable as ever ("Ch-ch-chop 'em off like Tomahawks"), before surrendering the spotlight to a manic, unhinged A$AP Ferg, whose verse is yawpy, strangely layered and deeply hard to describe. You remember that episode of Seinfeld where Jerry and Kramer switch apartments? I feel like Ferg and Thugger mixed up their styrofoam cups before stepping into the booth on this one…

"Bodak Yellow" – Cardi B
It's hardly the instant classic that it was being touted as in mid-2016, but Cardi B's "Bodak Yellow" is just as significant for its wider impact as for its typically flashy content. In a hip hop field that seems only capable of supporting one major female artist at a time, Cardi has succeeded gloriously by ignoring and surpassing the standard template. She doesn't (really) sing, she makes talk-show hosts nervous, she's unapologetic about her Dominican and Trinidadian heritage and her hooks ("Lil bitch, you can't fuck with me if you wanted to") are so not radio-friendly. And none of it matters, because "Bodak" did in 2016 what most artists (hip hop or otherwise) were too busy navel-gazing, rallying or politicising to get done: it anthemised not giving a fuck.

"Sparks" – Beach House
Beach House never met a sonic texture they couldn't articulate. On "Apple Orchard", from their self-titled debut in 2006, Victoria Legrand's languid vocals waft and dissipate, bucolic and bittersweet; it's the sound of spring intermingling with the smell of rain. Cut to 2015 and the dream-pop duo's "Sparks", which opens with Legrand's refracted murmurs before – in a truly startling moment – guitarist Alex Scally unlents a torrent of bracing feedback. It's not piercing or aggressive, though; rather, there's a burbling warmth present, as if each note produces a starburst pattern of colours designed to hypnotise you into forgetting how blinding the light is, right before the verse takes over and the sharp squall is smothered by a dour organ. You see where I'm going with this: this song is a nighttime reverie, made for looking at the way the shadows dance amongst the sparks.

"Rank and File" – Moses Sumney
With a voice that can cut skin and an intent to heal it, Moses Sumney makes music for the sake of life. On "Rank and File" – a song he said came from acting as "an anthropologist performing a study amongst his own kind" – Sumney mirrors the militaristic and fascistic traits of police brutality in America through the insistent crackle of his music. "Now I don't care what I've been told (Hey, two, three, four, five, six!)" goes the refrain, an ingenious reappropriation of marching chants that recalls Jamila Woods' "Mary Mack"-aping "VRY BLK", while the rest of the track consists of little more than fingersnaps, a pained drone and Sumney's emotive voice. By stripping back and recreating this heightened sense of tension in a song that addresses real-life violence, Sumney risks looking exploitative. Where he ends up instead is somewhere between exultant and enraged.

"Follow Your Arrow" – Kacey Musgraves
Platitudes are really just insights waiting for the right melody. So it is with "Follow Your Arrow", a highlight from country singer-songwriter Kacey Musgraves' 2013 debut record Same Trailer, Different Park. From the title and countrified context alone, you already know how this song sounds. The lyrics are a string of trite assurances and cliches ("You're damned if you do and you're damned if you don't"), soaked in blue-collar sentiment and rubbing shoulders with the same ole plucky banjos and pedal steel elegies that you've heard a million times before. It's all that and more, yes, but it's important to remember that Musgraves is a refiner in her field, not an innovator. She knows the reason that these sounds have lingered in country is because there's an inherent emotional pull to them, just waiting for someone to come along and point them all in the right direction.

"Gang Gang" – Migos
Not to keep harping on about "Bad and Boujee", but that song's success was something of a disservice to the quirky trio known as Migos. Though they'll forever be known as the guys who introduced adlibs into daily discourse, "Gang Gang" – a deep cut from 2018's CULTURE II – proves that their most underrated feature is an inherent melodicism that belies their ridiculousness. The beat is glorious and haunting, made up of an ethereal female vocalist, a reverberating bass and what sounds like an honest-to-God hand-played tabla. To match the brooding atmosphere, Takeoff (rarely the group's most vital member) turns out a beguiling performance, cooing about runaways and pocket change with a real tinge of remorse that seems only a little less sincere once Quavo chimes in. "B&B" might've made them mainstream, but Migos'll always rep the "Gang Gang".