Best Songs in the Hottest 100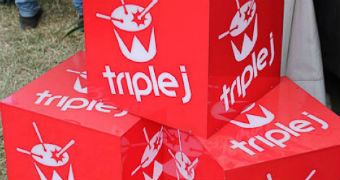 Best Songs in the Hottest 100
Looking at Music that Popticon Doesn't Often Give it's Fair Due, Here's What We Enjoyed in Triple J's Hottest 100
This afternoon, countless Australians around the country gathered to have a barbie and a game of beach cricket in order to commemorate our unblemished history and awesome treatment of Aboriginal people. Many will take an additional day off work tomorrow due to lower back pain from constant, self-administered congratulatory back-pats.
Also, Triple J's 24th Hottest 100 was on, to remind us that music polling is a democracy that is in no way biased towards Australian acts. Look, I'm a cynical arsehole, so it's almost certainly a good thing to have Triple J as a corrective to people like me who insist that Australian music – when compared with the rest of the world – kinda blows.
But honestly, it's not atrocious by any measure and, regardless of how I feel, it deserves to bolstered by the people of Australia who are rightly proud of the gargantuan amount of homegrown music we produce so prolifically each year. So, as a gesture of good faith, here are some of the best Aussie songs that appeared on the countdown this year (allowing for only one song per artist, lest the whole list be overtaken by The Avalanches).
97. "You Don't Think You Like People Like Me" by Alex Lahey
A song that enriches the verse-chorus-verse/soft-loud-soft structure that has typified all rock music since the '90s, Alex Lahey's track grabs forlorn longing by the throat, tips it upside down and shakes it violently until it agrees to give her a chance. "I know, I've heard this one before", goes the chorus; it's not wrong, but it feels new enough that I'm not mad at it.
93. "High and Low" by Empire of the Sun
I'm not entirely convinced that Empire of the Sun have ever made more than one song in their career. To be sure, but for the lyrics and lack of falsetto, "High and Low" is just a slightly refracted version of "Walking on a Dream", all pounding crescendos, incongruous twinkles and a melody that should be infuriating but instead winds up buried deep inside of you. In other words, it's almost eerily familiar, but undeniably effective.
83. "Simulation" by Tkay Maidza
Like an Australian Azealia Banks, but waaaaaay less annoying, Maidza marries lowkey, EDM melodicism and on-point rapping with a deftness that enhances your opinion of both in real time. Even the rote, festival-synth beat on this track seems richer when she's the one singing over it, which is nothing if not the mark of a great talent.
74. "Lost: Season One" by Camp Cope
Over drums that hit like soup cans falling down a rickety staircase and a guitar that sounds two days away from retirement, lead singer Georgia Maq wants you to know she's had enough of your shit. "Hope you feel like you've gotten far", she spits with a malice that makes you grin, while praying that she's not singing about you.
61. "Gamma Knife" by King Gizzard and the Lizard Wizard
Effortless and raucous all at once, King Gizzard's "Gamma Knife" sounds like it was recorded in stereo by two different bands, where at least one of them was possessed and neither of them weren't hungover. Singing is such a liberal term, so let's just say Stu Mackenzie makes mouth noises throughout, as the continual riffage and drum fills go to work doing what the best neo-psych songs do: giving you a nervy contact high.
37. "Smoke & Retribution" by Flume featuring Vince Staples and Kučka
Harnessing 8-bit dialtones for the most unlikely hip hop banger of the year, Flume recruits Vince Staples to give his inherent whimsy a little gravitas. "You ain't got no money, I ain't got no time", opens Staples, sitting above the mix and the listener concurrently, tempting Flume's spastic rhythm to befuddle him while Kučka does a decent AlunaGeorge over the hook. It's a proper mess, but at least it's catchy and in technicolour.
28. "Frankie Sinatra" by The Avalanches featuring Danny Brown and MF DOOM
The Avalanches used to want to intoxicate you, while also unsettling you slightly. The balance has fuckin' tipped, and now they just want to make you feel like the LSD you sucked out of that clown's arsehole may have in fact been laced. Horns, toots, clunks, scattered wobbles and Danny Brown at his most yawp-ish keeps everything decidedly off-kilter, so you can thank them for that weird bubble-gum headache you've got afterwards.
And, just for good measure, here are our favourite international tracks that charted (once again, with only one song per artist allowed, because otherwise it would just be the same Frank Ocean song ten times):
81. "Panda" by Desiigner
79. "Burn the Witch" by Radiohead
66. "Hold Up" by Beyoncé
59. "Solo" by Frank Ocean
41. "I Feel It Coming" by The Weeknd featuring Daft Punk
31. "One Dance" by Drake featuring Wizkid and Kyla
22. "Ultralight Beam" by Kanye West
20. "On Hold" by The xx
18. "All Night [KAYTRANADA Extended Joint]" by Chance the Rapper featuring Knox Fortune
13. "Love$ick" by Mura Masa featuring A$AP Rocky