Sunday Shuffle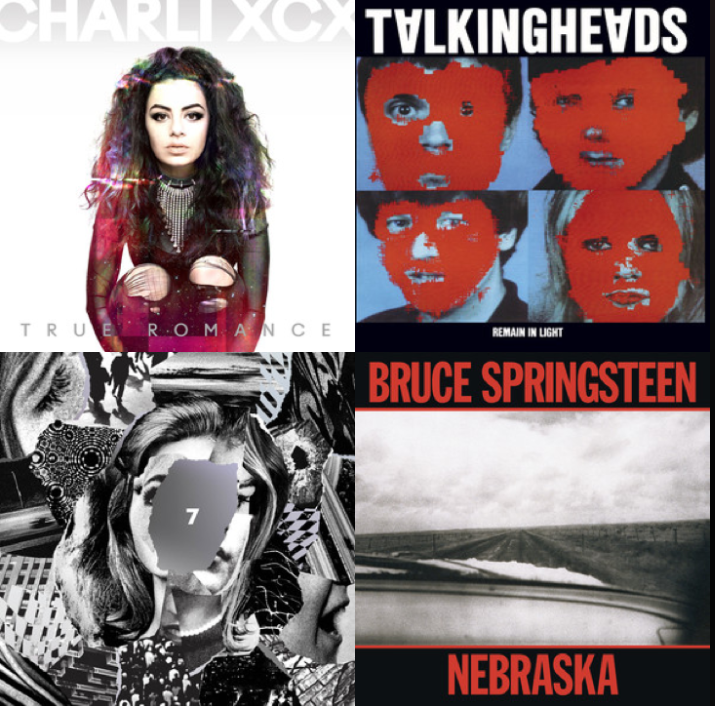 Sunday Shuffle
Seasons, Seeds and Strangers
Welcome back to another Sunday Shuffle!
The Sunday Shuffle is made up of ten songs chosen randomly from a library of tens of thousands of tracks; some effort is made to ensure a decent split between new and old music, as well as to ensure a diversity of genres etc.
Check out our Spotify playlist below, or even further down you can listen to each track individually and read our short write-ups.
Happy Shufflin'
"Nuclear Seasons" – Charli XCX
Before triumphant singles like "I Love It" and "Boom Clap" made her a household name, Charli XCX was just a young Brit cultivating a pop-weirdo image, wallowing in heartbreak and unusual sonic textures. If you're thinking Kate Bush, that weirdly fits as an aesthetic comparison, but XCX's early sound is far less splendid. Hence the indecipherable melancholy of "Nuclear Seasons", the 2011 release that kicked off her career. The twinkles, fuzzed-out bass and rushing synths are wonderful and should seem elating… yet, somehow, they sink your gut. Someone I played it for once asked: "Why does this make me sad?!"
"Once in a Lifetime" – Talking Heads
The catchiest existential crisis ever recorded, Talking Heads' "Once in a Lifetime" is a marvel of contradictions. This song is sooo excessive, yet each aspect is executed with clarity and total precision: the incessant, narcotically-addictive jangle of percussion, the syncopated bursts of guitar or synth that appear at seemingly-random, spot-on intervals, all the while David Byrne rattles off non-sequitur after non-sequitur about the pointlessness of living. It almost gets you down, but then, Je-sus, those flutes on the bridge and outro, lilting gracefully and knitting together that anxious, manice repetition: "Same as it ever was". And the heat goes on…
"Dive" – Beach House
Beach House's songs makes typical adjectives seem flat and vapid. Music tends to have push and pull signifiers, which is why we have genres like "rock" and "hip hop": you hear it, you get the idea. But Beach House's music… it wafts. It ooooozes. I can sometimes feel it dripping, bit by bit, out of my speakers, spreading out onto my floor and vaporizing into the air all around me. That's how "Dive" starts: a foggy organ, some golden chords and Victoria Legrand's magnificent coo, drippppppping. It does take-off, but with such mildness that you hardly even leave the ground.
"Nebraska" – Bruce Springsteen
With the heartland rock classic Born to Run seven years behind him, Bruce Springsteen heaved his blue-collar idealism and raspy croon over the other side of the track for a sparse, dimly-lit folk album titled Nebraska. If you need any evidence of Springsteen's newfound disillusionment, look no further than the title track. Equipped with nothing more than a guitar, a cobwebbed harmonica and his encroaching weariness, Springsteen exhumes the ghosts of Charles Starkweather and Caril Ann Fugate, the fugitive couple known as the badlands killers, for a tale that's brief, bloody and, by God, as haunting as anything you'll ever hear.
"Sowing the Seeds of Love" – Tears for Fears
A million miles away from their crippling ballad "Mad World", and too chaotic to fit the bill of the squeaky pop classic "Everybody Wants to Rule the World", Tears for Fears' "Sowing the Seeds of Love" is a glorious mess. It's their socially conscious track, as evidenced by the line "Political granny with your high ideals", just one of the many cringe-worthy jabs thrown at then-UK PM Margaret Thatcher. All of which is tossed into a cauldron of skronky horns, punch-drunk call-and-response choruses and an amped-up church organ that parades through it all with an obnoxious glee. Kinda funny, kinda sad.
"A Stranger" – A Perfect Circle
Maynard James Keenan is the only man in the world capable of getting away with such lofty, pretentious lyrics. "Cast the calming apple up and over satellites" sounds intriguing as a child, profound as a teenager and woefully, almost hilariously nonsensical as an adult. Still, "A Stranger" (and a large amount of APC and Tool's discography) relies not so much on Keenan's words as his delivery. His voice has the sustain, allure and deep, inscrutable ability to convey pain that has eluded almost every other alternative rock vocalist since Kurt Cobain and Layne Staley. "What do I care?" Yeah, right.
"Together Again" – Janet Jackson
The obvious joke is that there's never been a catchier song made about AIDS than Janet Jackson's "Together Again". But just because it's in poor taste, doesn't mean it's untrue. Troubled and saddened by the decimating effect the virus was having on her colleagues and friends in the LGBT community, Jackson's tribute to the fallen is as gorgeous as it is affirming of queer values and aesthetic. From the magical harps that open the track to its inviting hook and the misty beat swirling like dry ice vapours around a pulsing dancefloor, it's clear where we are: this is Gay Heaven.
"Spoon" – Can
'70s krautrock pioneers Can absorbed the psychedelia of the era they emerged into, regurgitating it into a cyclical jam. As evidenced in their iconic single "Spoon", they retained the spacey atmospherics, inexplicable lyrics and layered instrumentals of Hendrix, while leaning more towards the indolent hedonism of Jim Morrison. If the title isn't enough to conjure images of drug paraphernalia, the refrain "Oh, sitting on my chair where nobody want to care" certainly suggests something stronger than coffee and nicotine at play. The song echoes these hints, whirling with the carefree jumble of a junkie's mind, before quietly snuffing itself out.
"Take It or Leave It" – The Strokes
Barely able to keep from collapsing under the weight of the staggering achievement of Is This It, The Strokes' debut album closes with an insistent, fist-pumping victory lap. As frantic and dangerously catchy as anything else on the record, "Take It or Leave It" finds Julian Casablancas deploying his signature trick: on each section, he mirrors a different instrument. He starts by aping the bass line, hopping on the siren-shimmy guitar riff to end the verse before launching into a precipitous growl on the chorus in lockstep with Fabrizio's artillery drumming. This track's the reason they invented repeat buttons.
"Queen" – Perfume Genius
Perfume Genius' Mike Hadreas knew there was only one way to give the world the gay anthem it deserved: to give it one it wouldn't see coming, and that it wouldn't understand. "Cracked, peeling, riddled with disease", he rasps, "Don't you know me?" Of course you do. It's the phantom homo, come to strike again, gholish and disgusting, here to upend your world. And so he leans the fuck in. Few moments in recent pop memory are as staggeringly satisfying as the shattering drop that follows the proclamation "No family is safe when I sashay". Can I get a "Hey-ay-ay-AY-AY-AAAAY!"?